Nvidia has now formally announced its next-generation mobile platform chipset &#151 Tegra 3. Previously codenamed as Project Kal-El, the new Nvidia Tegra 3 system-on-chip processor promises up to three times the graphics performance of Tegra 2 and some 60 times lower power consumption. Touted as the world's first quad-core mobile processor, the new Nvidia Tegra 3 will debut in the Asus Transformer Prime tablet slated to arrive in December.
The new Nvidia Tegra 3 SoC mobile processor is the world's first quad-core processor based on the ARM Cortex-A9 microarchitecture. Actually, the Tegra 3 mobile processor has five processing cores of which the four main cores offer higher computing performance and consume less energy. While the fifth core smartly handles all those tasks that require less processing power and thereby conserve battery life. With that we can expect to see more powerful smartphones and tablets with greater processing horsepower without compromising heavily on battery life.
Nvidia brings in the new Variable Symmetric Multiprocessing technology which is meant to extend the battery life of a device by running the fifth core at a very low frequency and consumes exceptionally low power. All those background tasks that need less power will be taken care of by this fifth core.
The Ultra Low Power GeForce graphics processor comprises 12 cores and offers up to three times better 3D graphics performance compared to Tegra 2. The ULP GeForce GPU will support 3D Stereo and also brings new video engines that support full 1080p HD video playback at 40 frames per second. Expect to see fast-action games with much better graphics and enjoy high-fidelity multimedia content smoothly.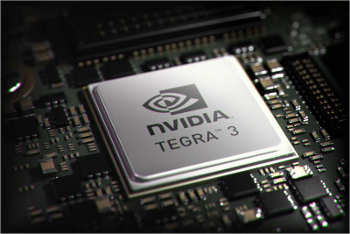 The Tegra 3 SoC chipset enjoys the 300 percent memory bandwidth leap because of its low-cost memory solution (DDR3L) that results in faster loading of applications, faster multi-tasking, and even a faster web experience. The chip promises a smoother web experience with support for accelerated Adobe Flash Player 11, HTML5 and WebGL based browsing.
Samsung and Qualcomm continue to compete with Nvidia with their dual-core mobile processors running at higher clock speeds.
Asus Transformer Prime TF201 is the first Android tablet to come with the quad-core Nvidia Tegra 3 mobile processor and it will be available in the US this December. In the coming year we can we expect a number of smartphones with quad-core processors to follow the league.