Indian Railways has launched Rail Radar, a live train tracking service that runs on Google Maps. Available at http://railradar.trainenquiry.com/, the service allows you find out the exact location of a train on the map. The site can be accessed from any mobile phone which has GPRS connection, as it is based on HTML5. However, a large screen phone is better suited for this service. However there is no mobile application for the service right now.
A similar service was already available on Indianrail.gov.in called the 'Spot Your Train. However this new service is much improved a shows a map of India with all the trains that are running at the given time.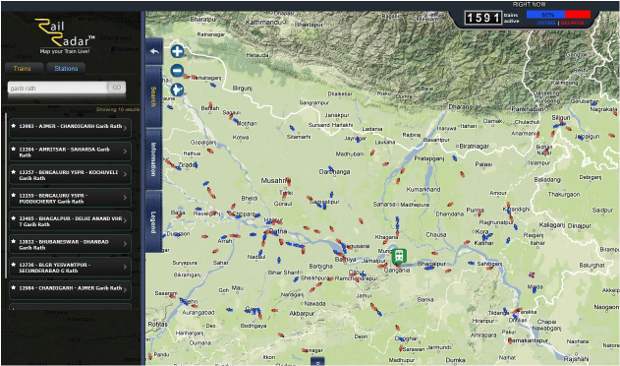 The screen also shows the percentage of the trains that are running on time and or are delayed. The service being based on Google Maps allows for zoom in and zoom out by scroll of mouse or by clicking the '+' or '-' icons on the left.
The left panel has a search facility where you can look for running information on specific trains. There is also an option for search by stations. Clicking on a train shows the status of the train, and also the route.
However, in terms of information, nothing much has changed and it is not the GPS tracked location but based on the information received from the railway station that the train just crossed. So in that sense it does not provide live information truly.
It would also made much more sense if Indian Rail's existing service (Indianrail.gov.in) – Spot Your Train – service would have been upgraded with this new option, instead of creating a new site making it a single purpose site.