If you are usually unable to watch Fashion TV in front of your wife or girlfriend, you can now do so on your mobile phone. Fashion TV has been launched on the global mobile TV network Yamgo.
Fashion TV, loved by men and hated by the government, which has censored its content many times, has spread its wings. Now you can watch the channel on your mobile phone free of cost. All you need to do is open your mobile browser and enter: http://yamgo.mobi/fashion-tv. You will, however, need to pay data charges.
The service does not require any application download because it streams video from mobile web portals. Yamgo's technology platform works on 3G (2.5G Edge and beyond), and also on Wifi.
The channel will be available on all mobile devices including phones running Android, Symbian, BlackBerry OS, iPhone and iPad. Yamgo's Fashion TV will host over 500 hours of new programming every year and over 300 new catwalk shows and 600 new clips every season.
"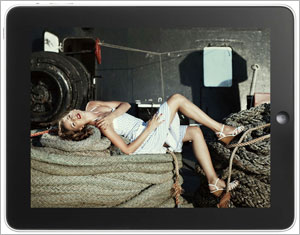 Fashion TV is a young and dynamic channel watched by an audience who is sensitive to new technologies and trends; therefore we are very excited to launch Fashion TV on mobile phones worldwide with the global leaders in mobile TV Yamgo," said Michel Adam Lisowski, president of Fashion TV.
Mobile viewers will have access to shows such as The Catwalk featuring designers and international fashion weeks; Behind The Scenes, presenting backstage access to the world's top hairstylists and makeup artists; Midnight Hot, a lingerie modeling show; and VIP Events, which showcases celebrity get-togethers.
"This new channel is an exciting addition to Yamgo's existing linear and catch-up TV service, and part of an ongoing strategy to expand our channel line-up to meet the fast growing demand from mobile users around the world for live mobile TV," Ian Mullins, the founder and chief executive officer of Yamgo said.
Yamgo delivers the experience of live television, primetime programming and video-on-demand on all major mobile platforms including Java, Android, iPhone, iPad and Symbian. Other channels on Yamgo include B4U Music (only Indian channel), UCB TV, BellaClub etc.