The double data benefit will be applicable at night hours (ie midnight to 7AM), on all standard data packs.
Videocon Telecom today announced "double data benefit" for its subscribers. Under the offer, the telco's customers will get double data on all standard data packs by default.
The double data benefit will be applicable at night hours (ie midnight to 7AM), on all standard data packs starting at price point of Rs 13, and going upto Rs 251, offering bundled data of 120 MB to 3GB respectively.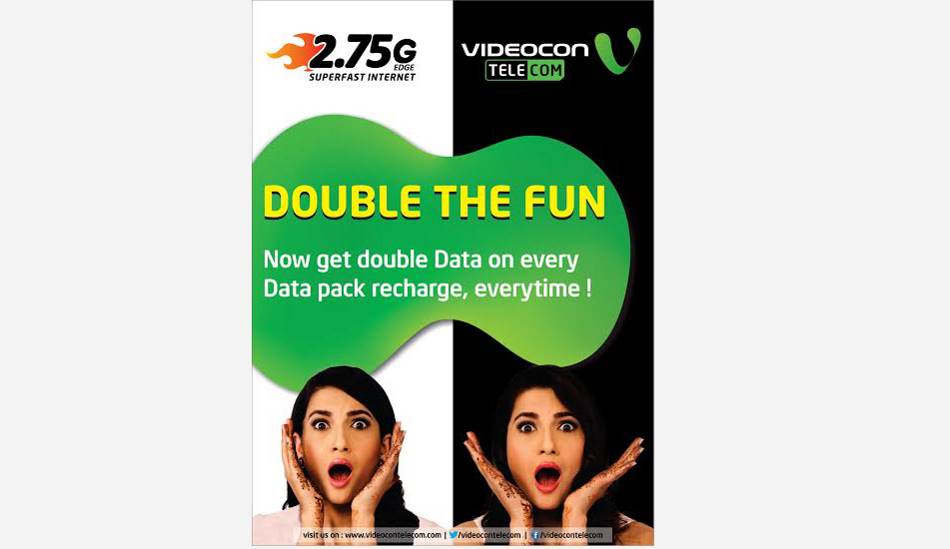 Recently, Airtel announced data cashback offer under which it is offering 50 per cent of the data consumed between 12 AM to 6 AM. Airtel is also offering Double Data offer for 4G users for two months. Vodafone too had sometime back announced a double data offer.
As per Videocon, majority of its data users comprises of youth segment, who use mobile data irrespective of time of the day. Approx 1/5th (20%) of data usage happens btw midnight to 7AM, and is growing on a monthly basis. Further, approx 17% of data users consume more than 50% of their data during night hours. The network utilisation is low at night hrs and hence customers will enjoy good data download speeds, that too free of cost.
Speaking about the same, Arvind Bali, director and the chief executive officer, Videocon Telecom said, "Data is the growth engine for telecom industry, and its imperative that there is enough and more traction on data offerings for customer engagement. Our double data offer is an initiative in the same direction. We are confident that this industry first initiative will help us accelerate our data growth."
"Last year we grew our data business by 126 per cent, which is almost double the pace of the industry data growth at 74 per cent.This initiative along with other micromarketing initiatives on data will for sure help us surpass our growth of last year" Bali further added.
The telco feels that the double data initiative would increase its overall data consumption by over 50 per cent and data revenue by approx 25 per cent in next 6 months. The growth will be driven by organic subscriber base growth, increase in data penetration by approx 6 per cent; and data consumption per user per month, which the telco expects to go up by 20 per cent to 230 MB.