Nokia Pulse, a social networking app, is soon going to be available for Android and iOS devices. While the web version of the app is available for any device with a browser, the app version gives better user experience.
In an interview with the Boston Business Journal, Nokia's global head of social and location based applications, Basak Ozer, said that the next platforms, she intends to bring the app to, are Android and iOS. Ozer doesn't expect Pulse to overtake Twitter or Facebook, but did hint that Nokia is beginning to look in the direction of social networking with a suite of interconnected Nokia apps.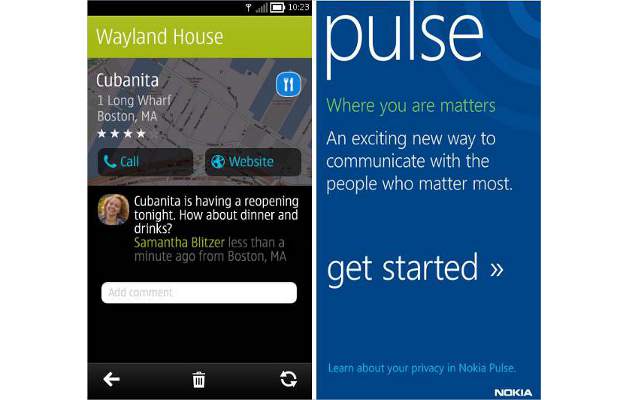 Nokia Pulse which is still in beta testing phase and is part of Nokia Map suit, is similar to Foursqaure. It allows users to share their location activity with friends but according to Nokia it has all the necessary privacy features. Nokia Pulse sends updates on conversations, location and the places being visited to the contacts on the list in a simple yet effective manner. While all this is shared with people within your group, no one outside the group can access this information.
The application uses Nokia Maps (Navteq) in the supported device for better location sharing and also finds out nearby places and guides users to the places of their choice. It also has features like messaging and photo sharing.
For Android and iOS, Nokia will have to figure out ways to integrate the service with Google Map, which is available on both the platforms. Nokia has taken the right decision as Android and iOS today commands close to 70 per cent market share and for any social networking application to be popular, it is hard to ignore such a huge user base.