Nokia has announced the beta launch of the new Nokia Maps for Symbian S60+ devices only. With this upgrade, the Nokia Maps for Symbian upgrades to version 3.08.
The new update primarily focuses on changing the approach and in turn the usability of the Nokia Maps. As opposed to a singular approach, Nokia Maps now follow a subject based approach and users will need to choose the usage right from the opening screen of the application whether they want to drive, walk or want the use the Nokia Maps for general browsing only.
Along with this, the Nokia Maps has also gone through a complete overhaul from the design department as well. Based on the Symbian Anna colour and style theme, the new Nokia Maps offer bigger buttons and a classy black theme as well.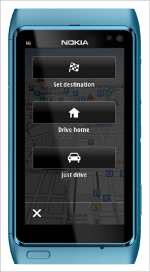 One of the top features of the new Nokia Maps is the browser based map availability. Users can simply point their browser to 'm.maps.ovi.com' and make use of the web based navigation on any phone supporting data connectivity.
Nokia is also in the process of making maps as drive oriented as possible. Users will be able to get driving instructions between points as earlier plus they can also select any point as the destination and get simple drive to instructions. With fellow Nokia smartphone users, the Nokia Maps users will now be able to choose 'drive to contact' feature as well. Nokia Maps' users can select their contact as their destination and get driving directions right from the Nokia Maps.
In countries like Germany, France, US, UK and Russia, however, Nokia Maps is offering real time traffic information as well, which will be a big step towards advanced navigation. But other countries will have to wait for some more time as Nokia plans to bring this feature to other countries soon.
Nokia Symbian users can straight away head to the Nokia Beta labs and try the new Nokia Maps on the Symbian devices including Nokia N8, Nokia C6-01, Nokia C7-00, Nokia E7-00, Nokia E6-00, and Nokia X 7-00 running the Symbian Anna. Rest all users can make use of the web based interface.