Nokia Maps, a known feature on the Nokia Phones, is set to be available for Android and iOS devices. Users need not search in their app stores for it since Nokia Maps will be available through HTML5 sites through the mobile browser. Once users reach Nokia Maps through the browser, it asks for their location to pinpoint the users on the map.
Once the users are located on it, they can search for a business located near them by just entering its name. All the nearby results searched by Nokia Maps are listed on the bottom and the map will itself point to the nearest location by default. The Nokia Maps also tells the users by drawing lines on the streets on the maps so they know where to drive in order to reach where they would like to.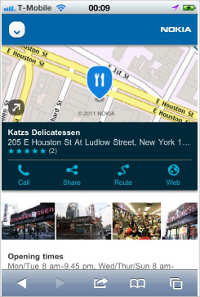 Thus users can easily find out which are the best routes for walking, driving or even where they should catch the bus from, all by just touching the right buttons on the top left of the screen. The same map can also be saved by the users in case they need to access the map later for offline use. Users will also be able to pinch and zoom on the saved maps even when they are not connected with their WiFi network or cellular network.
Currently, Google Maps remains the hot favourite among the smartphone users though the situation is likely to change when the Windows Phones hit the market. Users would also be looking forward to fully integrated Nokia Maps with the new devices coming out in the market.