Nokia had some time back came out with a Foursquare like application – the Nokia Pulse, which is a more secure and personalised location sharing application. But Nokia seems unhappy with such singular products and therefore they have now launched the new Nokia Map suite.
It seems inspired somewhat with Google maps application and all the features that it offers for its users. Well anyways the Nokia Maps suite application, as we said earlier also, is not just a single application but an application with multiple features that make the work easier and much more effective.
The Nokia map suite application primarily is a map based application that can be used for getting directions or information about a place.
Besides, the application also includes the recently launched Nokia Pulse application that sends updates on conversations, location and the places being visited to the contacts in a simple yet effective manner.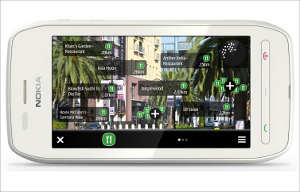 While all this is shared with people within your group, no one outside of the group can access this information form any place. Nokia Pulse app is available across various platforms so accessing it form different places is not a problem.
Along with this the Nokia Map suite also includes transit details for the most commonly used public transportation mediums. And along with that users can also discover and find more information about the different places using the 'places' feature in the app.
Last but not the least, the Nokia Suite application also includes the much awaited augmented reality browser as Nokia feels that it will be a giant step as far as navigation goes. And quite aptly the inclusion of an augmented reality browser adds a new dimension to navigation on mobiles.
Presently the Nokia Map Suite application is in its beta phase so it might have some bugs, but once it gets out of the beta phase many more features are expected to be added to it. The Nokia Pulse application can be downloaded either from the Nokia beta labs or can be downloaded from Symbian Phone application stores by accessing the given link.