Nokia Windows Phone devices under the Lumia series will soon get the company's dedicated navigation software, Nokia Drive. The Finnish handset maker has recently announced two devices under its Lumia range – Nokia Lumia 710 and Lumia 800.
The app will be included in the Indian-bound Lumia devices as a native application when the handsets are launched in the sub-continent next month.
Nokia is planning to make the software utility completely offline capable. This means that the application will be able to function without data connectivity or mobile networks.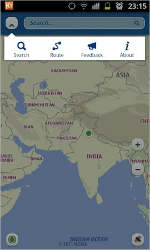 "Nokia Drive will receive an update in the near future that will allow navigation even offline," said Plaffo.com quoting officials of Nokia Italy.
Although Nokia has shared broad plans, no definitive deadlines have been announced.
Nokia already has detailed maps for all major cities in India and it is just a matter of the roll out of the update that will enable the application to showcase navigation and driving directions even in the absence of a mobile network.
Thus making it useful especially to travelers in cities and states where roaming data charges become absurd.