Nokia has formally introduced a new Bluetooth stereo headset – BH-121. This new Bluetooth stereo headset features a small panel that allows plugging any pair of earphones. It has also Near Field Communication that offers more control without touching the smartphone. Nokia Bluetooth Stereo Headset BH-121 is expected to go on sale this month for about Rs 3,285 approximately. Nokia has though not clarified about its availability in India.
Nokia Bluetooth Stereo Headset BH-121 features the Apple iPod Shuffle like Clip On form factor. Only thing missing is a nice display. The BH-121 has Playback Controls on body instead where the user can simply touch to play and pause a music track. On one side is the volume control button with a microphone below it. Of course, this Bluetooth headset can be used for answering voice calls too. On the top is a standard audio port with a micro USB port next to it.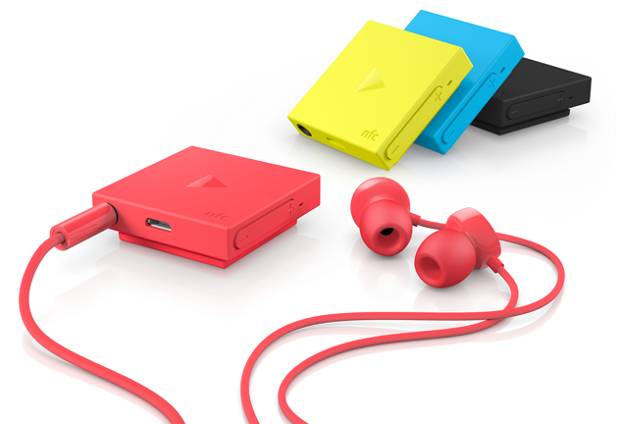 The BH-121 is battery powered and hence can be charged using the micro USB 2.0 cable. The Clip On at the back can be used to plug the unit anywhere on the clothes. Nokia BH-121 users Bluetooth 3.0 compatibility standard and also has NFC pairing capability.
There is an ON-OFF key which can also be used to shuffle tracks. The BH-121 offers wideband speed with the help and implements Echo Cancellation if you are in some echo boosting environments. Nokia has also enabled the digital/active noise reduction technology in the headset. The unit operates in the frequency response range of 20 Hz to 20,000 Hz so be vary on the type of headphones you attach with BH-121 unit.
BH-121 comes with 10 meter operation range. Pairing your phone with NFC saves up on the battery power of the unit and the phone as well. It has a 110 mAh battery that claims to provide up to 6 hours of continuous talk time or up to 6 hours of music playback time.