Only some time ago, Nokia showed smartphones with NFC technology, as reported by The Mobile Indian earlier. Now Paymate, the wireless transactions service provider, is working in partnership with Nokia to enable easy purchase and delivery of goods using just a simple tap. This will allow PayMate to bring NFC technology in full fledged manner to India.
NFC is the acronym for Near Field Communication technology, which allows simplified transactions, data exchange between different mobile devices.
The NFC technology makes use of radio frequency identification so devices can exchange information in real time. With the same NFC technology, users can also view their content and services with just a tap. PayMate also says the NFC users in India will be able to share text, images, data and URLs just by holding their phones in front of different smart tags.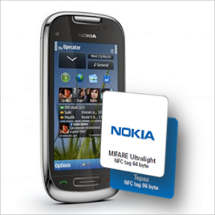 "Besides being a cost effective and user-friendly technology, the basic requirement to be able to use this technology is having an NFC enabled device," says Ajay Adiseshann, founder and managing director of PayMate.
The smartcards provided by Delhi Metro railway network already use NFC technology to enable users pay their train fare easily. The same technology can also be used by the vehicles to pay their toll taxes even when the vehicles are moving while they are passing through the toll roads.
"Customer could purchase an item by simply tapping their NFC enabled device against an NFC enabled menu or a tag on an item they wish to purchase," the statement said. It further says, "NFC thereby helps in contact-less payments by transforming the mobile phone into a digital wallet, thus eliminating the need to carry cash and credit cards."