HMD unveiled its flagship Nokia 8 Sirocco device back at the start of this year, which is expected to be launched in India this week. Though the device had almost all the qualities to become a true flagship, it still ran on an older line of Snapdragon 835 chipsets, keeping it a level below smartphones that boasted of Qualcomm's much newer processor. But that's all going to be in the past as the latest leak has revealed that HMD Global will soon launch Nokia 9, which on its release will surely upgrade itself to the latest flagship specifications and maybe more.
A week after Nokia 1 got released in India as an entry-level smartphone running Android Go Oreo, a new leak reveals detailed specifications and a picture labelled "camera revolution" of the upcoming Nokia 9 flagship by HMD. If the pictures are anything to be believed, the Nokia 9 will be powered by a Snapdragon 845 processor, being the first HMD-made Nokia phone to do so, with 8GB of RAM and 256GB of onboard storage.
According to the detailed specs sheet, the device features a 6.1-inch QuadHD AMOLED display with an aspect ratio of 18:9, all of which is housed inside a black ceramic case with a gold lining on the edges. Backed up a decent 3,900mAh battery, the Nokia 9 is estimated to be able to last to up to a whole day of normal usage. It would be equipped with wireless fast charging, boosting up to 60 percent in within half an hour.
But probably the highlight reel of the smartphone is the three camera setup at the back, the biggest of which is a 41-megapixel Zeiss wide-angle lens with optical image stabilization. The camera setup also makes use of a 20-megapixel telephoto lens that goes up to 4x optical zoom in addition to a 9.7MP monochrome sensor as part of the three camera setup. In order to match the imaging capabilities of the recently launched Huawei P20 Pro, the Nokia 9 cameras will be able to capture light with an aperture range of f/1.5 – f/2.4, much like that of the Galaxy S9+.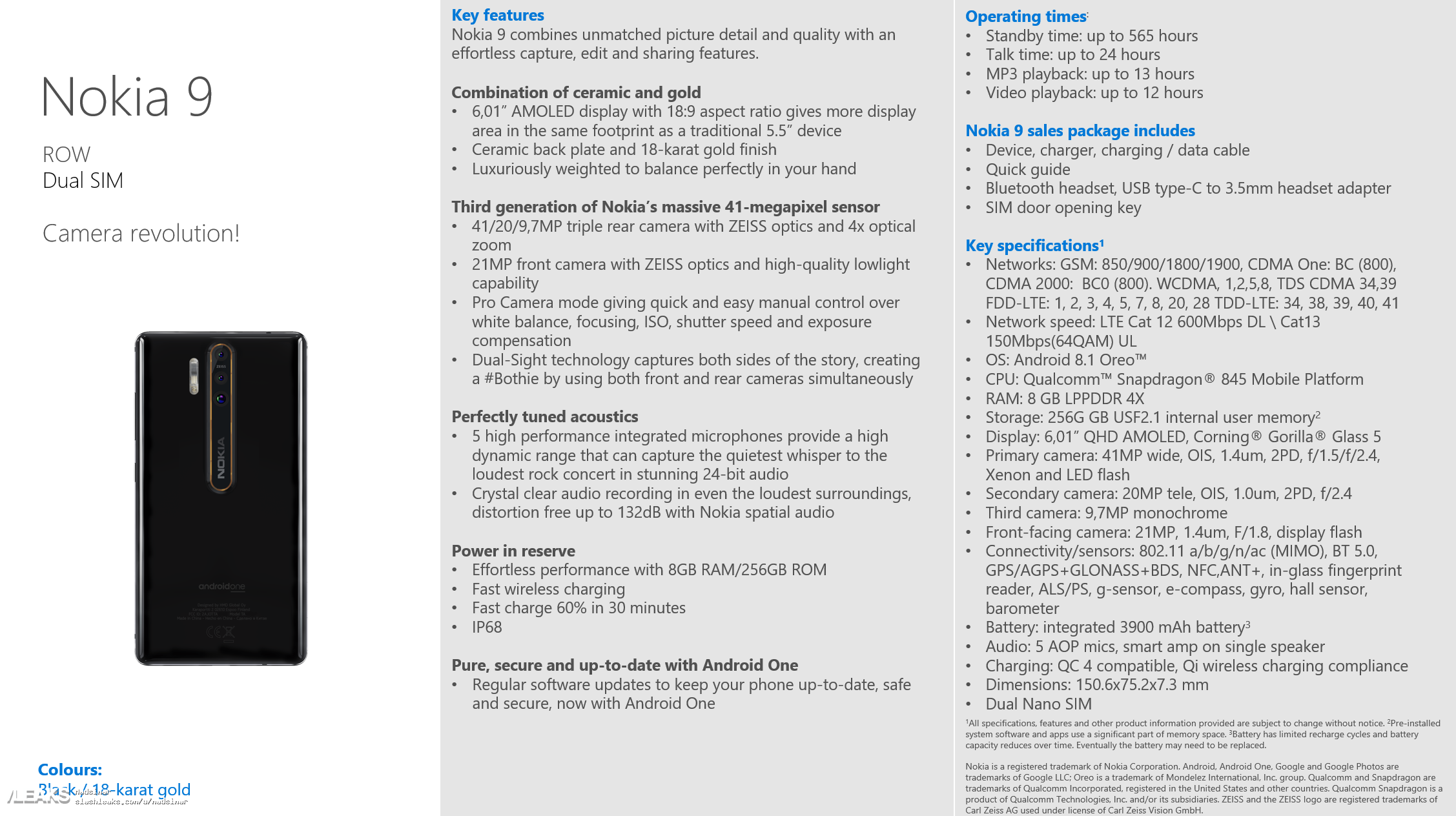 If that wasn't jaw-dropping standards, Nokia 9 is also slated to come with now-a-reality "in-glass" fingerprint sensor and will run on Android One support, meaning the device will be pushed with regular updates alongside Google's own set of devices. Having said all that, the Nokia 9 appears too good to be true and we hope this isn't another April fools' day prank gone too serious.