Reliance entered the tablet war with a 7 inch Android pad. It's powered by an 800 MHz processor coupled with a healthy 512 MB RAM. It also supports voice calling and SMS; runs on Gingerbread or Android 2.3 and has a capacitive multi touch screen. It weighs only about 389 grams.
The device has two cameras &#151 A 2 megapixel camera at the back and a VGA resolution camera on the front for video calling. The phone connects using 3G, WiFi and Bluetooth.
A WiFi Hotspot feature allows you to use the phone as a WiFi modem for up to five devices. It also has Mobile TV and YouTube, Google Search, Google Map, R World Online, Gmail, and FM Radio. It also plays multiple music and video formats. It's powered by a 3400 mAh battery, which lasts for 300 hours on standby.
The tablet is manufactured by ZTE, which means we can expect decent build quality coupled with a bundled 3G data plan.
The ZTE device is undoubtedly attractive, but it isn't the only one of its kind. Here are a few tablets that work outside the Reliance network and cost about the same though nearly all have lower specifications.
HCL Me tablet AE7-A1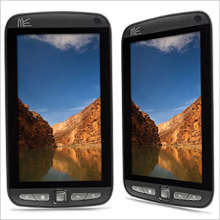 HCL Me tablet has a 7 inch resistive touchscreen that supports 800 x 480 pixel resolution. By contrast, the Reliance tablet has a capacitive touchscreen. Packing a low power 800 MHz processor, the Me AE7 has a 256 MB DDR2 RAM, 2 GB of flash memory and is capable of reading microSD cards of up to 8 GB.
The tablet has a 0.3 megapixel camera on the front for video calling. Its other features include a gravity sensor, GPS, a 3.5 mm audio port, WiFi (802.11 b/g), Bluetooth 2.0 and support for an EVDO USB dongle, which will cost you at least Rs 1,000. The Me tablet has a 2400 mAh Li-polymer battery which will last for about 5-6 hours.
HCL tablet is priced at Rs 11,000 which is Rs 2,000 cheaper than the Reliance device. It scores low because it is not a 3G tablet (though it supports dongles that will cost a lot. If you already have a dongle, that's one reason you can consider buying this device. Other negatives are a resistive screen and less RAM (only 256 MB vs 512 MB that the Reliance device has), and only 8 GB support for external storage. There is no rear camera and the tablet runs on the older Android 2.2. The remaining specs are similar to those of the Reliance tablet.
One thing to keep in mind is that even bundled 3G plans are more expensive than EVDO (CDMA) plans, and the HCL tablet's 3G dongle can be used for a laptop or PC as well. So this in fact gives you more choice but slightly lower specs. The Reliance tablet is probably more satisfying.
MSI 7 inch and 10 inch tablets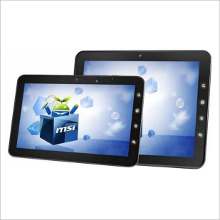 The MSI Enjoy series tablets has two variants &#151 Enjoy 10 (a 10 inch tablet) and Enjoy 7 (a 7 inch tablet), priced at Rs 15,000 and Rs 14,000 respectively.
The new Enjoy series comes with a 1.2 GHz ARM Cortex-A8 processor and 512 MB of RAM that will power the Android 2.3.3 Gingerbread operating system. For connectivity, the tablets support WiFi and Bluetooth 2.1.
The 7 inch tablet has an 800 x 480 display with a 16:9 aspect ratio while the Enjoy 10 tablet features a 1024 x 768 pixel capacitive touchscreen in a 4:3 ratio.
Other features of the tablet include Adobe Flash 10.1 support, two 2 megapixel cameras, an ambient light sensor, G-Sensor (accelerometer), E-Compass, 4 GB of internal storage space expandable by 32 GB with a microSD card, and a 3.5 mm jack. The tablets uses a 4000 mAh battery
This is better than the Reliance tablet in every aspect apart from the fact that it is not a 3G device, but then you can always buy a separate 3G or EVDO (CDMA) dongle.
Zinglife ZL101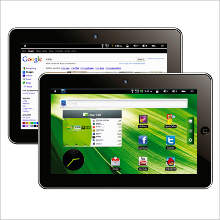 Zinglife ZL101 is made by a new company called Splash Telecom that supplies for many Indian handset brands. The tablet is powered by a 1 GHz ARM11 processor and 512 MB RAM. It runs on Android 2.2 OS and comes with a 10.1 inch TFT touchscreen. It has 4 GB of internal memory and supports 32 GB of external memory.
It uses WiFi and has a USB 2.0 port which enables 3G connectivity through 3G data cards. It also supports EVDO and broadband cable connectivity through an RJ45 port. With LCD connectivity through an HDMI port, ZL101 also offers a front camera that works as a webcam. It has a 2,400 mAh battery with 4-5 hours of standby time. The tablet is priced at Rs 12,500 which is very good for a tablet of this size and specs. What goes against it is the fact that it comes from a new brand, which has just started to create a distribution network. So, availability is an issue. Although company officials told us they have already set up a partnership with a distributor so that the device is available more easily, quality is something we do not have any idea about.
There are other tablets in the market but they are all more expensive. If we go purely by specs, the MSI tablets will be the best, followed by Zinglife; but the tablet from Reliance has certainly got an edge with an unmatched distribution network. Moreover Reliance is also offering discounted 3G data tariffs with 2 GB data for Rs 375 only, which makes it the cheapest offer in the industry. However, other tablets support EVDO dongles on which data plans are cheaper than 3G and also offer decent speeds of 3.1 Mbps. Though 3G is twice to five times as fast.
However, naturally the convenience of inbuilt 3G capability is much more than any dongle can provide, and so is super fast 3G.
We will shortly review the Reliance tablet, and will be in a better position to give a conclusive verdict then.