Web based messaging services have been around for quite a while and most mobile phone and internet users are familiar with them, but changing the game entirely, Epicwhale, a Mumbai-based web application developer, has announced the launch of the very unique TextMe service for the Indian market. TextMe takes the idea of sending short messages or SMS through internet browsers to a whole new level. It allows users to share and message text, pictures and even web links to mobile phones across India without having to pay anything for messaging.
What makes TextMe different from other free SMS services like Way2SMS and 160By2 is its neat integration with the mobile browser that allows people to use this service anytime and from any web page that they are browsing. Along with deeper integration that makes access easier, the application is also smart and automatically shrinks or shortens links to save a lot of characters. Earlier this had to be done with the help of third party services like Bit.ly or Goo.gl TextMe application remembers the last page you visited on your browser and automatically inserts the link in the message when it is opened, saving additional time. If required, users can remove the link in case they want to send out a personal message or something other than what they just browsed.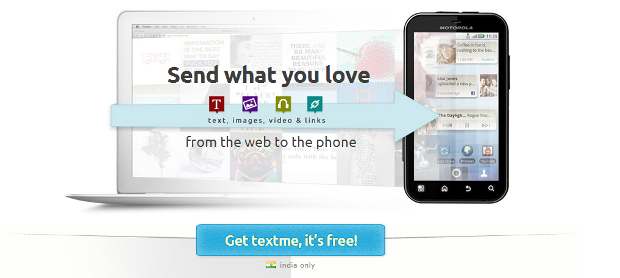 If users like some page on the internet they can simply right click on it and share it via TextMe. The same is applicable for images as well. This app works on feature phones too. . It makes absolute sense for users who want quick access to important information such as online ticket booking, important Facebook accounts, something interesting one would like to share etc.
To get this service users are required to visit the company's home page at http://ontextme.com/. From there they can download and install browser specific TextMe applications for their computer. The application currently supports all popular web browsers including Google Chrome, Internet Explorer, Mozilla Firefox and Apple Safari as well. To sign in users are required to provide their mobile number and a password to protect it.