Tablets have changed the way we look at mobile computing; they are ultra portable yet powerful enough to fulfill basic computing needs and also do their duty as communications and entertainment devices.
However, in the process of losing weight and bulk, tablets have also lost some of the hardware that was essential at times. However, the good thing is that you can still have this hardware when you need it.
Some tablets, such as Galaxy Tab, Apple iPad and Olive Pad come with only a case and a charger. Here are some other accessories that you will find useful:
Keyboard dock
Tablets rely on touchscreens for inputs. Though effective, at times you want to feel your inputs, especially for tasks like typing. For these times you can buy a keyboard dock.
You can connect a keyboard to a tablet if it has a USB slot, or you can buy wireless keyboards. Some keyboards also act as tablet stands and then there are those that also have a battery pack to juice up your tablet's battery. Yet another variety acts as a case for your tablet.
These keyboards start at Rs 1,200 (for Chinese ones) and go up to Rs 5,000 (for an aluminium Logitech keyboard case for iPad).
Stand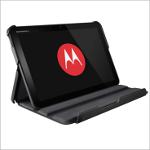 Tablets are a good way of watching movies while on the go, but then you don't want to hold them all the time while you are watching your favourite flick. In that case you can invest in a case that also works like a stand, or you can buy a charging dock which works like a stand as well.
Again, the decision of the type totally depends on what you need and what you already have. The prices start at Rs 600 and go up to Rs 2,600, for which you can get a genuine Motorola Xoom stand. Tablets like iPad and Galaxy come with their own case, which act as stands.
Screen protector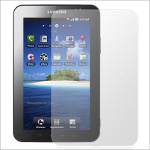 Tablets have big screens and hence are prone to scratches, despite the fact that they have better scratch resistance than they used to. So the first thing that we recommend is a proper scratch guard.
While looking for a scratch guard, do remember that most tablets have a capacitive touchscreen that works using your body's static charge. The wrong scratch guard can therefore impede the working of the touchscreen.
There are scratch guards available for capacitive screens but they are slightly more expensive than those for resistive screens. Make sure you get the right kind for your tablet. Prices start at Rs 200 but the good ones will cost you more than Rs 500.
Stylus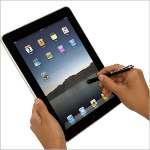 Most tablets, as stated earlier, come with capacitive touch screens. Since they work best with fingers, manufacturers do not supply a stylus with them. However, fingers are not the best way to write, at least for most of us, so a stylus is necessary. Moreover a stylus will be really useful in case you are working on applications like Paint.
There are styluses which work on capacitive touchscreens by mimicking the human body static charge. These styluses cost anything between Rs 300 to Rs 1,000.
Car kit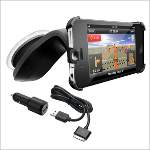 All tablets that we have here in India use GPS, and are therefore good navigation devices as they have the largest screen size among personal navigation devices. But placing them in the car can be tough. The solution is a car kit. These kits offer various levels of features, from very basic stands to car chargers, and connectors for the car's music system.
These car kits are not very different from mobile phone car kits and work like docks that stick to the car's windscreen, or onto the AC vent of the car. In case of tablets, you will also find holders for the headrest so that rear seat passengers can enjoy watching movies on their tablets. Prices vary from Rs 500 to Rs 2,000.