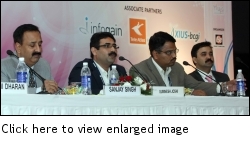 "What kind of applications should be innovated to reap the full benefits of VAS?" was the topic of discussion at the seventh VAS 2010 held on Thursday. Successful strategies for business success in MVAS telecom landscape was the point of focus at the session chaired by Sunmesh Joshi, ITS, DGM, marketing, BSNL.
The panel was of the view that there are many value added services available in the country but very few are known. Joshi felt that the use of VAS should be made simple and this effort will only come with easy accessible handset settings. Experts from the VAS industry explained their business models which could work in the VAS telecom landscape of India.
Abhinav Mathur, chief strategy and technology officer at Spice Digital said that networked innovation is the way to the future. He said that 'Build, buy, partner or get late' should be the strategy of VAS players. Either one should build his own company, acquire a company or should partner with strategic alliances and develop beneficial business models, he elaborated.
Diversified multilingual content should also be made available to bridge the divide between the urban and rural areas. "Mobile VAS has too many players in the industry now. The subscriber mix is changing as there are more rural net additions and on the other hand ARPU (average revenue per user) is falling," said Sanjay Singh, chief technology officer at One97 Communications.
He added that even though the rural areas are the low ARPU section, the fact is that the next customer is going to be from there. Consumers are now asking for services beyond music and entertainment; giving easy and accessible services to the subscriber will have to be the key focus.
Singh felt the maximisation of current services would be the current business model. "In the next two years we could go to other markets which have a similar ecosystem in India."
To conclude, every operator will have to understand the customer demands and give quality of services that benefit the consumer. Any strategic business model will have to include consumer needs which have now started going beyond music and entertainment.