MTS, which operates CDMA mobile services in India and whose license (except for Rajasthan) were cancelled by the Supreme Court earlier this year, has assured its subscribers that it will continue to offer services beyond 18th January 2013.
It is to be remembered that TRAI on December 17 asked MTS to inform its customers about the closure of its operations by January 18 next year. However, MTS now has decided to continue its operation post that date since its curative petition is still in the Supreme Court and a judgment on that is awaited.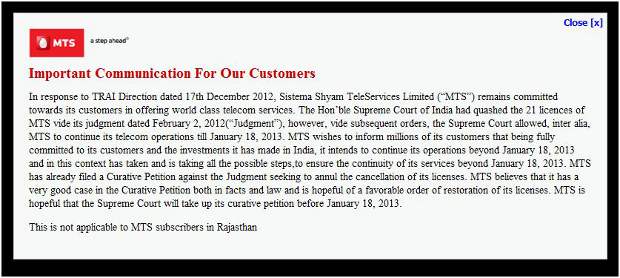 "MTS wishes to inform millions of its customers that being fully committed to its customers and the investments it has made in India, it intends to continue its operations beyond January 18, 2013," MTS said in a statement published on its website. It has also informed its customers about the same through SMS as well.
MTS claims that it has a very good case, in the Curative Petition, both in facts and law and is hopeful of a favorable order of restoration of its licenses. MTS is hopeful that the Supreme Court will take up its curative petition before January 18, 2013.
Recently, Sistema (which owns MTS brand) asked the Indian government to either resolve the issue, or it would seek "billions of dollars" in damages from India.