Amidst speculations over telecom companies hiking their tariffs like Airtel, MTNL has promised both its prepaid and postpaid customers that it will not hike its voice tariffs.
A K Bhargava, executive director, wireless service, MTNL said, "In the backdrop of the industry trend of increasing call charges, MTNL is not only assuring its customers to keep the tariffs at the same level but will continue to take many other measures to further benefit its customers."
The government owned operator, which operates in Delhi and Mumbai, has also started providing free SIM cards for the new prepaid customer. These subscribers will have option to recharge any of four available recharge coupons and avail tariff plans like all calls at 50 paisa per minute, or any call at 1 paisa per second, and local MTNL network call at 0.5 paisa per second.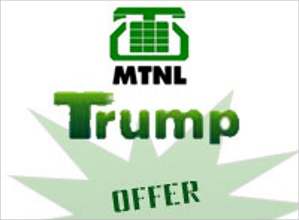 MTNL has also launched a new 'home zone plan', which has been initially launched in Faridabad. The Home Zone (Zone within a circle) plan offers 1 paisa per 4 second calling for MTNL to MTNL calls.
MTNL has also announced a new 'friends and family' plan, under which users will be able to call five other MTNL frequent calling numbers (Mobile or Landline) for 10 paisa per minute, by paying Rs 50. Friends and Family plan will be applicable to customers of all plans. Customer may choose any MTNL Basic number or mobile number under this plan. This facility can be activated through IVR or by request to customer care at 1503.
MTNL Delhi has also announced an Independence Day special plan that offers talktime of Rs 64 and Rs 1,947 for Rs 64 and Rs 1,508 top up coupon respectively.
MTNL has also drastically reduced ISD call rates for many international destinations. Now ISD call rates for six countries starts from Re 1.00.