Motorola is mostly likely to announce the next generation Xoom 2 tablets next month. According to an advertisement published by online retailer Carphone Warehouse, the Motorola Xoom 2 is coming this Christmas.
Carephone Warehouse's flyer was meant for Ireland and most likely an announcement in this regard may take place this month or next. The WiFi version of the tablet is expected to be priced at 400 Euros (Rs 27,060 approximately).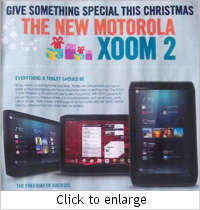 The Motorola XOOM 2 tablet comes with 8.2 inch touchscreen display which slots the tablet between the usual 7 inch and the 10.1 inch displays bearing models. The flyer notes that this tablet will be a WiFi only model with 16 GB of on-board storage. Also the tablet will run the Android 3.2 Honeycomb operating system and obviously would be upgradable to the Android 4.0 Ice Cream Sandwich.
There was no mention about the hardware specifications but we know for sure that the tablet will have a camera at the rear and one in the front. First generation Xoom came with Nvidia Tegra 2 SoC chipset inside it and this new Xoom 2 will most likely come with the Nvidia Tegra 3 SoC dubbed as Kal-El. Asus has already unveiled the Transformer Prime and expected to launch the same on November 9.