Motorola has announced the launch of its new Moto Mod for the Moto Z series smartphones, dubbed as the Polaroid. It is an instant-share printer Mod, which allows users to instantly print small photos of size 2×3-inch. The Polaroid Mod is currently available in the US at a price of $199.99 and expected to be around Rs 12,500 in India.
The rectangular shape Polaroid Mod sits on the back of the Moto Z series smartphones with the help of pogo magneticpins present at the back panel of the devices. It can print pictures which are stored in the gallery app and can also print snaps from social media account as well. The device uses Zink or Zero-ink technology to print photographs.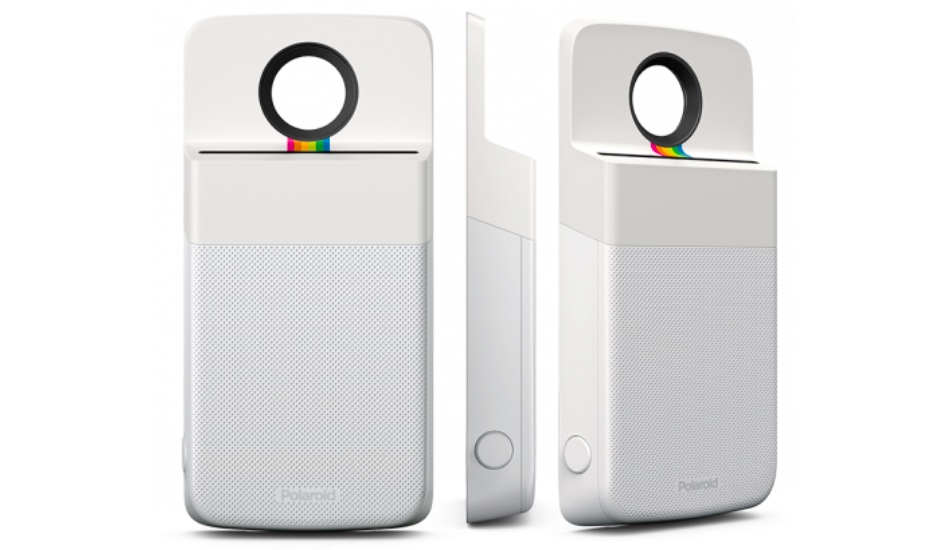 The company claims that Zink photo paper delivers colourful, smudge-proof, water-resistant and tear-resistant photos without ink or toner cartridges as all the colour required for printing are embedded in the Zink photo paper itself. Further, the Mod houses a 500mAh battery, which company claims to print 20 photos before the battery runs out of juice. The device is charged via USB type-C port with charging rate up to 10 W.
Meanwhile, HP(Hewlett Packard) has recently introduced a new pocket-size photo printer, HP Sprocket. It is very much similar to the Polaroid Mod, lets the user print photos from their smartphones wirelessly through a Bluetooth. Priced at Rs 8,999, the Sprocket is compatible will all Android and iOS smartphone.
You Might Also Like
To recall, Motorola has announced a new Moto Mod, which comes with Amazon Alexa virtual assistant. The new mod comes with a price tag of $150(Rs 9,789) and it is compatible with Moto Z lineup.