A smartphone version of the hit PC title, Minecraft, has arrived on iTunes store. The pocket edition of the game has been available on Android for three months but is exclusive to Sony Ericsson's PlayStation Phone. The new version costs &#1635 in the UK (about Rs 400) and will be live in the iTunes app store anytime now.
This is a slimmed down version of the game for iPad. Just like the desktop version, users can build whatever they want to using the 36 blocks in the game. They can also go multiplayer but that only works over WiFi. iOS and Android users will be able to play with each across platforms.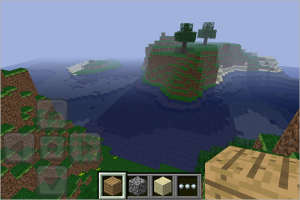 The popular part of the game – Survival Mode, though, isn't available. Users will be able to save multiplayer worlds on their smartphones and invite others to worlds they create. Minecraft is already very popular with more than 4 million players playing the PC version. The pocket edition of Minecraft will be compatible with all iPhone, iPod Touch and iPad devices. It will work with iOS 4.3 or later versions.
The Xbox 360 version of the game is already in production and is likely to arrive by 2012. To locate the game on iTunes click this link.