Days after launching the Surface Hub 2s with 50-inch 4K display, Microsoft has announced an update to its 'Your Phone' feature on Windows 10 which will display all your notification from your Android smartphone directly on your Windows PC.
In its latest iteration of the Windows 10 Insider Preview Build 18885, Microsoft has updated its 'Your Phone' software with theaddition of Android notifications. The feature will work similarly to how Apple handles iPhone notifications on Macs and MacBooks. The company has revealed that it's adding the latest feature to OnePlus 6, OnePlus 6T, Samsung Galaxy S10e, S10, S10+, Note 8 and Note 9 devices.
With the release of the latest Windows 10 Insider Preview, users will be able to see incoming phone notifications in real-time and view all notifications visible on the smartphone. Additionally, users will be able to clear notifications individually or all at once and also get the ability to customise which notifications are displayed on the Windows PC.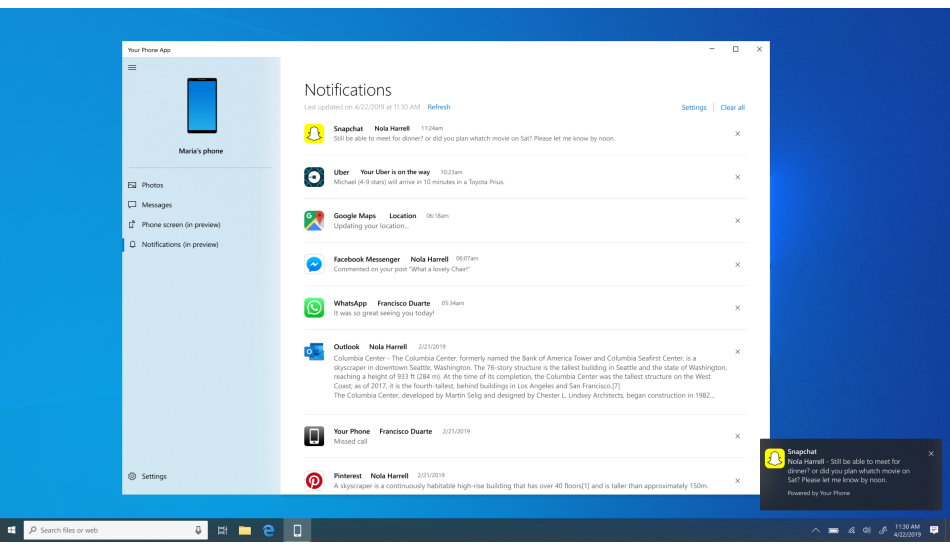 Microsoft has confirmed that in order to receive Android phone notifications, users will require an Android phone running on Android 7.0 Nougat or higher with at least 1GB of RAM. It also requires the PC to run on Windows 10 build 1803 (RS4) or newer and will need Notification Access enabled on the phone.
While Android notifications on Windows is a new thing, the feature isn't fully complete. There's a major limitation to the feature as it only displays the notifications from your phone and does not let you reply to them.