Marvel Entertainment has launched its first game for Google Android platform &#151 Captain America: Sentinel of Liberty. The game comes for the Android 2.1 Eclair or higher running devices along with the release of the comic hero blockbuster movie Captain America: The First Avenger.
The action packed game promises high quality graphics. For the opening weekend the game is available at special price of $0.99 (Rs 43.92 approx) and after that it will be priced for $4.99 (Rs 221.37 approx).
Captain America: Sentinel of Liberty comes with loads of action and that too in 3D. While the evil Red Skull is leading the HYDRA for building weapons for the war, the Captain America has to stop them. All allies have been captured as well so the mission also involves rescuing Falsworth, Dum Dum Dugan and Bucky.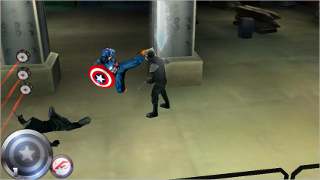 As Captain America, players need to use the unbreakable shield to maneuver through the attacks and even block them. Packing 24 levels, the game spans around three massive episodes with hidden areas to be discovered. For the achievers, Marvel has also offered number of unlockable items.
Tailored with high quality graphics and cinematic action, the Captain America App performance may vary on different devices. The game has been optimised for Android 2.2 Froyo or higher devices but even users with Android 2.1 will be able to play it.
The game carries original soundtrack woven with the story written by Marvel writer Christos Gage. Marvel and Captain America fans can also check out the free Captain America Live Wallpaper for their devices.