MapmyIndia on Tuesday launched a new 7 inch Android tablet, named CarPad, which is customised for use inside a car.
Powered by Qualcomm's Snapdragon S1 processor, MapmyIndia CarPad comes with a large 7 inch capacitive display, 3G connectivity, MapmyIndia's latest fully 3D and connected GPS navigation interface, and Android operating system.
Commenting on the launch, Rakesh Verma, managing director, MapmyIndia, said, "We are excited to launch CarPad which will revolutionise the way people travel in cars in India &#151 because of the simple, ingenious way in which it offers navigation, entertainment, connectivity and productivity to everyone in the car, be it in the back-seat or the front-seat."
CarPad will provide turn-by-turn voice guidance to places, augmented reality with 3D landmarks, buildings and terrain, house-level details, travel guides, nearby information and even friend finders.
The CarPad comes exclusively pre-installed with Aura, MapmyIndia's latest navigation interface, with full 3D navigation and maps including house numbers as well as city and travel guides.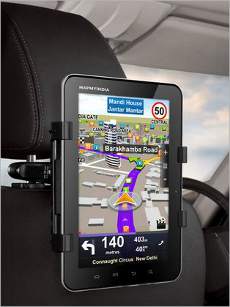 All the maps are pre-installed on MapmyIndia CarPad, making it independent of the network. It leverages connectivity by streaming photographs of places and letting users discover people and friends nearby, share their location and message with others &#151 connecting users to everyone and everything around them.
MapmyIndia CarPad is loaded with comprehensive and accurate all-India maps, with over 5 million places, national-level maps for 5,79,000 towns and villages, street-level maps for 1200 cities, house-level maps for 18 cities and 3D landmarks and building footprints for major cities.
With the bundled car kit's head-rest and windshield mounts, you can use the CarPad conveniently in the car's back or front seats, and then carry it easily with you to use at home, office or anywhere.
You can call, message, mail and chat with everyone, browse the web at high speed, and socialise with others anywhere using the CarPad's in-built 3G, WiFi and Bluetooth.
With CarPad you can listen to FM Radio and music; watch movies and YouTube; flip through photos and Flickr; click photos and record videos as well.
MapmyIndia CarPad is at Rs 22,990 which includes the CarPad device with 3G, WiFi, 8 GB SD card memory, pre-installed MapmyIndia navigator Aura, as well as car-kit worth Rs 6,990, containing the headrest mount, windshield mount, CarPad holder and car charger, in separate box free with CarPad.
MapmyIndia CarPad will be available for sale from 15th September, online at mapmyindia.com, followed by retail stores.