It seems as if the whole world is going after the classics once again, and is coming up with more and more revamped versions on the classic games for the Android platform. Following the trend, Tozai Corporation of Japan in collaboration with Sony Ericsson has announced the launch of its legendry game Lode Runner in the form of Lode Runner X exclusively for Xperia Play.
Taking the game way up ahead in terms of the overall graphics quality and playability, Tozai has presented the Lode Runner in a totally new way. Along with that, the developers have added a couple of new levels and puzzles to solve too for the users.
Tim Harrison, head of content and marketing strategy for Sony Ericsson said: "Xperia Play is a unique Android smartphone that sets a new standard in mobile game play and we are committed to bringing more exclusive content to the device. Lode Runner is a franchise with great resonance in the gaming community, so we are particularly looking forward to bringing this brand new and exclusive version to Xperia Play."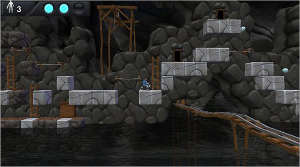 The game has just been announced and is not available readily in the Android Market. The game will be available for download on Xperia Play smartphones only starting November this year.
Earlier also, we had reported the launch of two classic games &#151 Space Invaders and recently announced R type, optimised for Android smartphones.