The LG Watch Urbane, which was announced for India sometime back, is now available in India for an official price tag of Rs 30,000.
Powered by the Android Wear operaitng system, the smartwatch works seamlessly with smartphones running Android 4.3 and above. The LG Watch Urbane, which was globally unveiled at the MWC 2015, has a full-circle Plastic OLED (P-OLED) display and a full metal body with a stitched genuine leather strap. The stainless steel body is available in two colors, luxurious polished rose gold and silver. Unlike many other competing smartwatches, the band can be exchanged with any replacement 22mm leather, silicone or metal strap for the ultimate in convenience and personalization.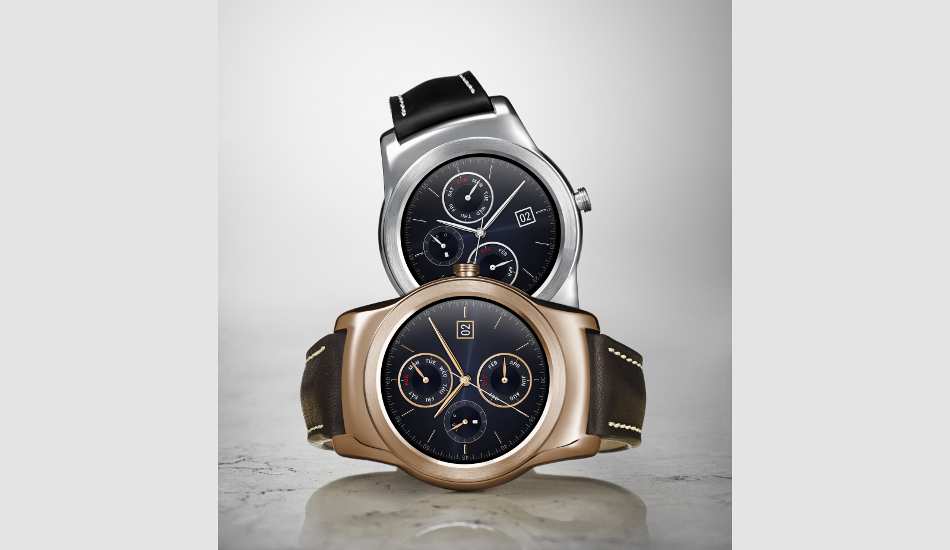 Some of the features available for the first time on any Android Wear device include WiFi connectivity, always-on apps to keep the display from going dark when running, navigating and an improved UX that makes launching favorite apps and getting in touch with friends easier than ever before.
In Pics: LG Watch Urbane –Click here
The latest OS allows users to send emoticons by drawing them directly on the LG Watch Urbane. Draw a smiley face, a clock showing a certain time or any other pictures and Android Wear will match your drawing to the closest Unicode emoticon for sending to another Android Wear watch, smartphone, or computer. Other improvements include the ability to change the font size and see notifications even when looking at another function on the display, such as directions. The screen on the LG Watch Urbane can now be set to lock automatically when it is removed from the wrist.
It has two useful features: LG Call and LG Pulse. LG Call allows the wearer to access re-cent calls and the favorite contacts list on the connected smartphone to dial out directly from the watch. When connected to a Bluetooth headset, there is no need to remove the phone from one's pocket to place a call. And LG Pulse takes health monitoring to a whole new level by measuring the wearer's heart rate every second during exercise with no maximum time limit. At the end of the activity, LG Pulse will report the average heart rate over the entire duration of the activity and display a heart rate graph on LG Health (coming soon).