Just days after Samsung revealed its plans for 'The Wall' and Serif Lifestyle TVs, LG has now announced its CineBeam Laser 4K Projector which is set to be unveiled at the Consumer Electronics Show (CES) 2019 in Las Vegas. The device will be the second-generation CineBeam Laser projector with Ultra Short Throw (UST) technology and will be able to project on a wall to up to 120 inches in size.
The Ultra Short Throw technology will help the CineBeam projector to project a 90-inch diagonal image, from just 2 inches away from the wall. When placed 7 inches away, the device will be able to produce a much larger and still bright 120-inch image.
The LG CineBeam Laser 4K delivers 4K UHD resolution at 2,500 ANSI lumens, meaning brighter clearer images with better black levels than last generation projectors. The advanced projector offers enhanced visual accuracy with a 12-point keystone adjustment feature, eliminating the image distortion that often affects other UST projectors With support for USB, Ethernet and HDMI connectivities, the LG projector will enable users to stream movies and shows from their favourite services.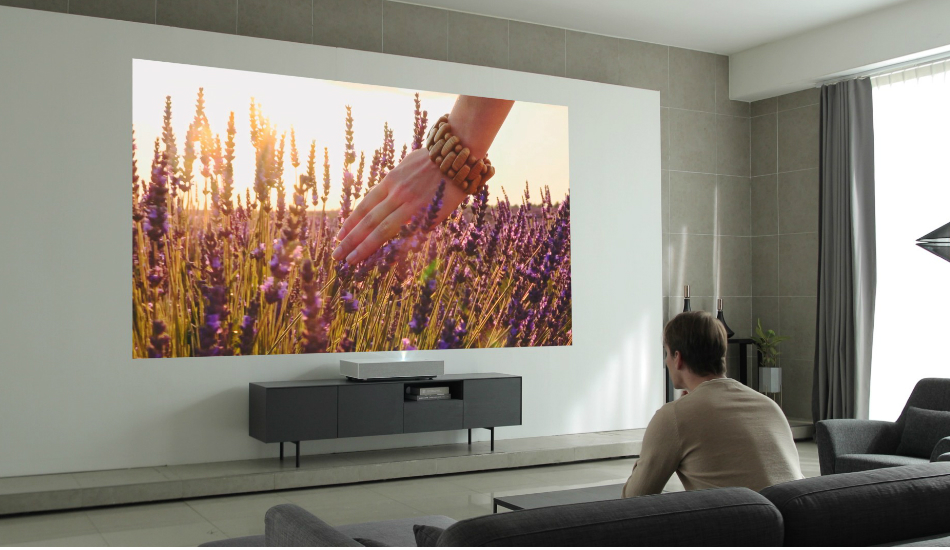 To add to user convenience, the LG CineBeam utilises LG's AI solution, ThinQ to allow customers to use voice commands to access and switch between content. Users can control the operation of the projector by saying "turn off projector after the movie has finished" or narrow the content to view by telling the projector to "play yoga videos on YouTube". Viewers can also access a list of movies then select the content by speaking into the included Magic Remote. The Magic Remote also recognizes gestures and features backlit buttons for easy navigation which turn on automatically when motion is detected.
Speaking about their latest product, LG IT Business Division Head, Jang Ik-hwan said "The new CineBeam Laser projector marries spectacular 4K viewing experience with the convenience of AI technology. There is no other product like this on the market, illustrating how LG continues to deliver unique value to consumers".
The LG CineBeam Laser 4K Projector will be on display at the Consumer Electronics Show (CES) 2019 in Las Vegas from January 8-11.