LG's new 5 inch display based Optimus Vu smartphone, which was announced during last year's Mobile World Congress, is now available in the market. LG Optimus Vu will give direct competition to Samsung's Galaxy Note which comes with a 5.3 inch screen.
Though spokesperson of LG India declined to comment on the launch date, he said, "LG India is focused on its smartphone business and will launch products at regular interval to strengthen the portfolio."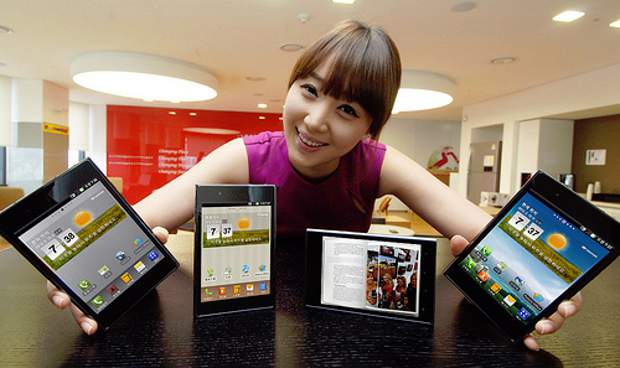 On the specifications front LG Optimus Vu and Samsung Galaxy Note seem to be evenly matched. Optimus Vu has a 5-inch IPS display and sports a resolution of 1024×786 with a 4:3 aspect ratio as compared to the Samsung Galaxy Note's 5.3-inch screen with a resolution of 1280×800 in 16:9 aspect ratio. LG though claims that the screen of Optimus Vu is brighter than its competitors.
Vu's 4:3 aspect ratio also seems to be better suited for web browsing and photo viewing. On the other hand, movies play better on devices with 16:9 ratio. Both the phones support stylus and hand writing recognition.
The Optimus Vu has a 1.5 GHz dual-core Snapdragon processor, 1 GB of RAM, 32 GB of internal storage, 8 megapixel rear camera, a 1.3 megapixel front-facing cameras and an HDMI port. The device also has a 2080 mAh battery and will run on Google's Android 2.3 Gingerbread OS which is upgradable to ICS.
While the Note has 1.4 GHz dual processor, it either matches or betters Vu on every other count with 1 GB RAM, 16/32 GB internal storage, 8 megapixel rear shooter and a 2 megapixel (Vu gets 1.3) front-facing camera. The device also has a 2500 mAh battery, and runs on Google's Android 2.3 Gingerbread OS with the Samsung TouchWiz UI v4.0. It too will be upgraded to ICS in the coming summer.
From a consumer's point of view, one needs to watch out how LG prices Optimus Vu in India and how Samsung reacts to it.