Lenovo has announced the Yoga Tab 3 Pro and Yoga Tab 3 tablets, the later comes in 8 inch and 10 inch screen sizes while the former is available in 10 inch size only.
The Yoga Tab 3 Pro boasts a built-in 70 inch projector which is rotatable to up to 180-degree to beam life-sized images onto a wall or ceiling. It features four front-facing JBL speakers, which are fine-tuned with Wolfson Master Hi-Fi technology, to reproduce high-octane sound and has a virtualized Dolby Atmos experience over built-in speakers that claim to create a sensation of sound moving in all three dimensions around the listener.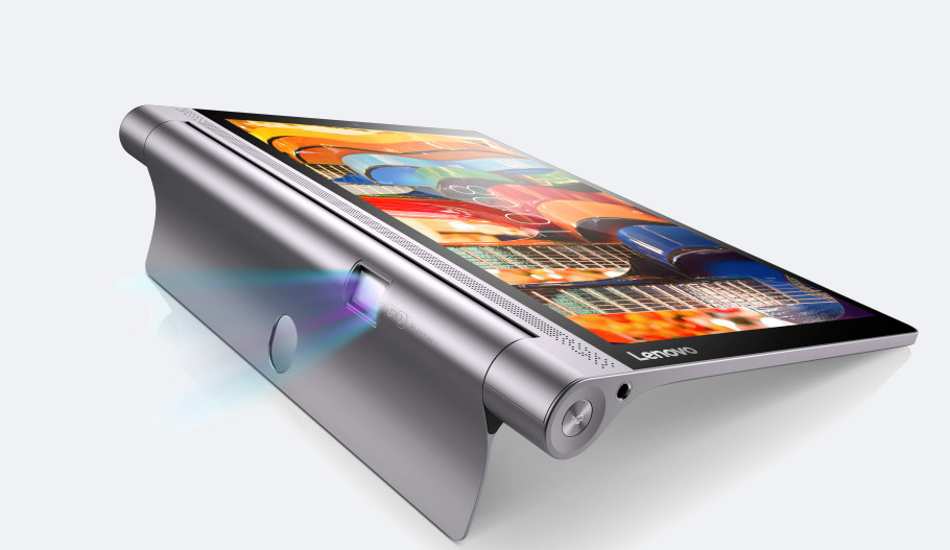 It has a 10.1 inch screen with QHD (2560×1600 pixels) resolution and an aluminium body but has a leather-like fabric back. It claims to be splash proof. Lenovo Yoga Tab 3 Pro is available in Puma Black, while the 8" and 10" YOGA Tab 3 comes in slate black.
Besides, the Lenovo Yoga Tab 3 Pro has 2.24 GHz Intel Atom x5-z8500 processor, Android 5.1 Lollipop operating system, single SIM (LTE model only), 13 megapixel rear camera, 5 megapixel front camera, 2 GB RAM, 16/32 GB internal memory, 128 GB expandable memory slot, and a 10200 mAh battery.
The Yoga Tab 3 comes in 8 inch and 10 inch screen size variants, both of which offer HD (1,280 x 800 pixels) resolution. It too has front-facing stereo speakers with Dolby Atmos sound, and weighs 466 grams. It offers a 180-degree rotating camera and LTE support.
Besides, this tablet has 1.3 GHz Qualcomm processor, 1 GB RAM, 16 GB internal storage, and a micro SD card slot. The 8 inch variant has 6200 mAh battery while the 10 inch version has 8,700 mAh battery.
The Lenovo Yoga Tab 3 series will be unveiled during IFA 2015 in Berlin. The Yoga Tab 3 8″ will retail at €199 (WiFi) or Rs 14,798 approximately and €249 (LTE) or Rs 18,510 approximately from October, while Yoga Tab 3 10″ will hit the market in November at €299 (WiFi) or Rs 22,231 approximately and €349 or Rs 25,941 approximately for the LTE model. The Yoga Tab 3 Pro too will be launched in the market in November at €349 (WiFi only) while the LTE model will cost €599 or Rs 44,553 approximately. Ofcourse these are international prices and it is not clear whether these devices will be launched in India or not and if launched, prices will vary as well.