After trying its luck with both 10 inch and 7 inch tablets, Lenovo is reportedly set to take a plunge in the 5 inch tablet market.
According to the recent images revealed by Engadget, Lenovo has almost finished the designing and now testing bit of the new Lenovo 5 inch tablet smartphone and is almost on the verge of the launch as the product seems as if it came right out of the assembly line.
Lenovo has recently introduced three new tablets in India &#151 ThinkPad, IdeaPad K1 and IdeaPad A1.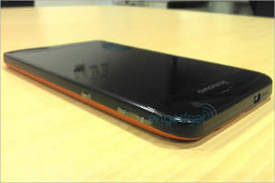 The new 5 inch tablet is also expected to be branded as Ideapad but the exact name us not known till now. The new tablet will be put to direct competition to the likes of the Dell Streak 5 and the Acer Iconia Smart. The recently released Samsung Galaxy Note will also increase the competition for the 5 inch tablet.
The Lenovo tab is expected to be powered by a 1.4 GHz processor with dual core computing engine, and a dedicated graphics engine. The operating system should not be less than Google Android Ice Cream Sandwich. Although not much information has been revealed in the pictures but the device clearly showcases a mini HDMI port that shows the device has better graphics capabilities on the like of the Samsung Galaxy Note and the Iconia Smart.