Lenovo has announced that it will introduce a new range of Google Chrome and Microsoft Windows laptops, which are specially designed for the educational purpose from February 2018 onwards. The Chromebook list includes the 100e, 300e and 500e Chromebook, while the Windows series has the ThinkPad 11e and 11e Yoga laptop.
The laptops will come with the rubber bumpers, reinforced ports and hinges, and anchored keyboard. Since the devices are designed for students, they will come with some preloaded software tools like Lenovo LanSchool and AirClass, Google Classroom, and G Suite for Education.
ThinkPad 11e and ThinkPad 11e Yoga
The ThinkPad 11e and ThinkPad 11e Yoga are the 5th generation laptops, which will be available in February. The former will sell at a price tag of Rs $429 (approximately Rs 27,400), while the later for $499 (approximately Rs 31,800). Similar to the previous gen, the devices feature an 11.6-inch HD display with the screen resolution of 1366×768 pixels.
You Might Also Like
The Windows 10 running laptops are powered by the Intel's latest N series processor and are claimed to offer 12 hours of battery life. Further, the ThinkPad 11e Yoga is a 2-in-1 device which comes with a garaged pen for easier storage and world-facing camera enabling pictures and video-recording in tablet mode.
Lenovo 500e Chromebook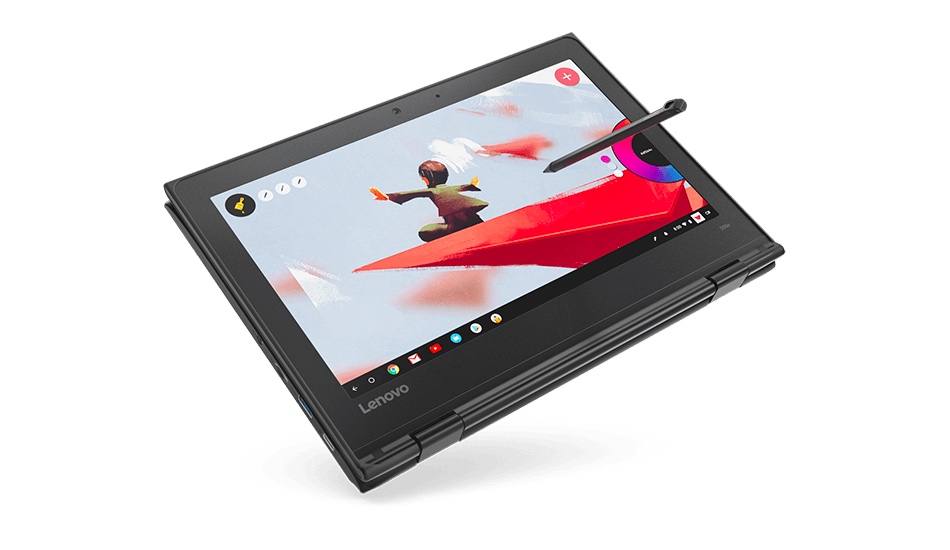 The Lenovo 500e Chromebook is a 2-in-1 laptop, which will be available at a price of $349 (approximately Rs 22,300) starting next month. It is powered by the Intel Celeron Quad-core N3450 processor and runs on the Google Chrome operating system. The 500e features an 11.6-inch HD IPS display (1366×768 pixels) similar to the ThinkPad 11e series.
It is backed up by 4GB LPDDR4 RAM up to 8GB and 32GB eMMC storage up to 64GB. On the connectivity front, it comes with, WiFi, Bluetooth two USB- ports, two USB 3.0 ports, a microSD card reader and a headphone jack. The 500e only weighs 1.35 kg and claims to offer up to 10 hours of battery life. It has a 720p HD front-facing and 5MP rear camera
Lenovo 300e and 100e Chromebook
The 300e Chromebook will be available by the end of the month at a price tag of $279 (approximately Rs 17,800). It comes with an 11.6-inch display same as the 500e but it is powered by the MediaTek MTK 8173C, which is the main difference comparing it with the 500e. Further, it comes with 4GB RAM and 32GB storage and has a 720p HD front-facing camera.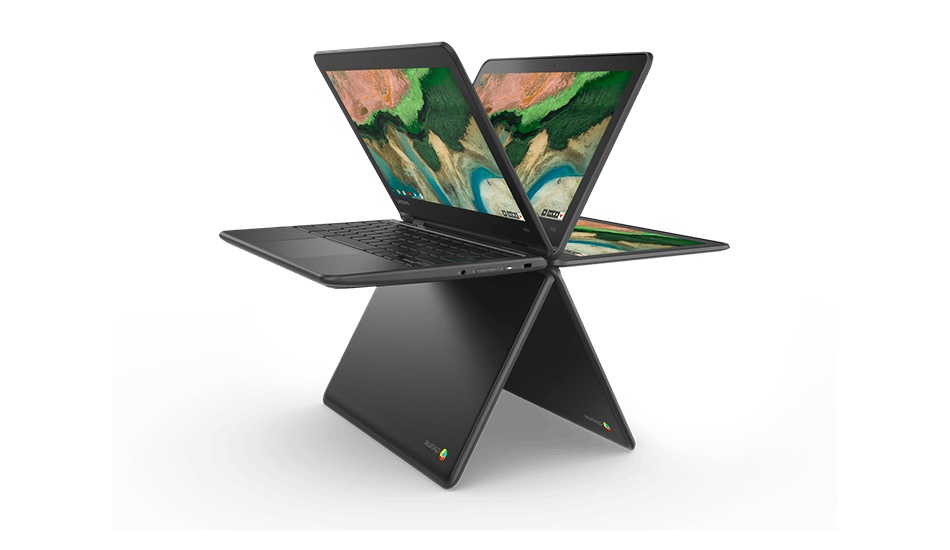 For connectivity, it has inbuilt WiFi and Bluetooth, a USB-C, a USB 3.0, an HDMI, an SD card reader and headphone jack. Other than this, its weights same as the 500e (1.35 kg) and houses same battery with up to 10 hours of backup.
Moving to the 100e Chrome, it will be available in the late January for $219 (approximately Rs 14,000). In terms of configuration, it is similar to the 500e Chrome, but lighter in weight (1.22Kg) and powered by the Intel core N3350 processor and Intel integrated graphics.