The hugely popular Tanglish (Tamil+English) song 'Kolaveri Di' has now smashed all records to become the most downloaded song on mobiles in India, according to a latest study by Airtel.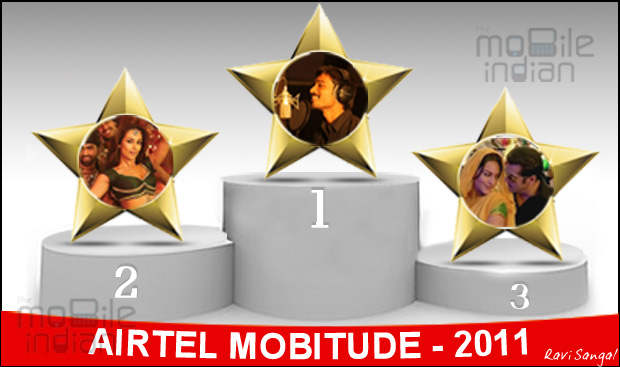 The survey – Airtel Mobitude 2011, said that in the entertainment space, 'Kolaveri Di' has topped Indian mobile charts within 18 days of launch, thus beating all previous records, including 'Munni Badnaam Hui' and 'Tere Mast Mast Nain'.
You can see our earlier article to download the Kolaveri Di song.
"In the Bollywood segment, Katrina Kaif and King Khan maintain the leading position in the category of images downloaded on mobile this year. Despite several new entrants in Bollywood Imran Khan and Jacqueline Fernandes were the only new comers to feature among the top 5 categories," the survey added.
In the Hollywood segment, Kim Kardashian and King of Pop Michael Jackson hold the top position in the category of images downloaded on mobile.
Amongst sport stars &#151 Sachin Tendulkar continues to be India's favourite, followed by Indian cricket team captain MS Dhoni. Sania Mirza climbs to the fifth spot followed by Maria Sharapova.
According to the survey, approximately 20 million images and wallpapers were downloaded by Airtel mobile users in the past year.
The survey was conducted by Airtel, which compiles data from its repository of paid downloads. Notably, Airtel is the No. 1 telecom operator in India right now with over 170 million mobile customers.
N Rajaram, chief marketing officer of the consumer business at Bharti Airtel, said, "It clearly highlights the rising demand for data services being driven by technologies like 3G and proliferation of smart phones. Today, the mobile is a major source of entertainment and information – be it a user in a large town or small village."