There have been a slew of Android based low cost tablets in the Indian market with Micromax, HCL and iBerry launching their respective 7 inch tablets recently. Now, Karbonn, another Indian mobile phone manufacturer, is set to join the league with its own SmartTab 1 tablet.
The tablet, which is currently being given away to players winning Karbonn Kamal Catches in the ongoing IPL 5 matches, will be launched for consumers in the next ten days, a spokesperson of the company informed The Mobile Indian. The tablet can already be pre booked here here.
Karbonn SmartTab 1 will come with a 7 inch capacitive screen, Android 4.0.3 Ice Cream Sandwich (ICS), 1.2 GHz processor and 3700 mAh battery. It will also have a mini HDMI port (to connect it to a TV), a micro SD card slot for storage of up to 32 GB, and also a USB port that can be used for a 3G USB dongle. The tablet, which bears a 2 megapixel camera, will also have a 3D gravity sensor for better gaming.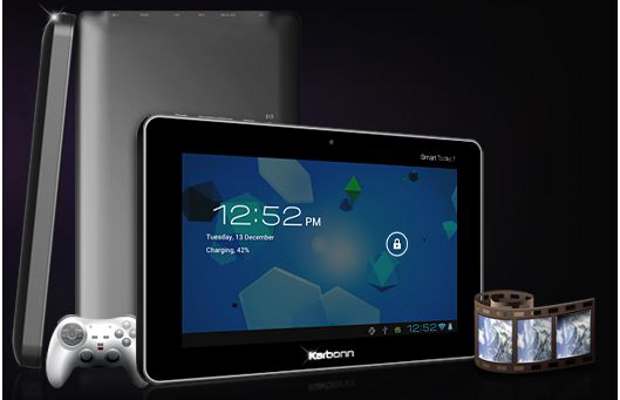 The SmartTab 1 has similar specifications to Micromax's FunTab and HCL's MeTab U1. While Micromax has priced its tablet at Rs 6,500 (with a free USB dongle and 1 GB data plan from Tata Photon+), HCL has priced its tablet at Rs 7,000. Both these tablets are targeted at the education segment with pre loaded educational content.
Karbonn will have to either compete on pricing (price it below Rs 6,500), or in terms of content. Karbonn has been building its own app store for some time now, and that makes us believe that it will indeed offer some exciting applications with this tablet; may be it will include some extra games.
In terms of pricing, there are many tablets in the Rs 7,000 bracket. Apart from the three above mentioned tablets, there are more tablets from Zing and Intex in the market as well and therefore it's safe to assume that Karbonn will offer the tablet for a similar price.