Google revealed its Pixel 2 series of smartphones earlier this month and just like the original Pixel and Pixel XL, the new iteration has been in the news for more wrong reasons than right. Google Pixel 2 XL is having some rather disappointing issues with the display. For the record, the Pixel 2 comes with a 5.5-inch Full HD (1080 x 1920 pixels) AMOLED display while the Pixel 2 XL comes with 6-inch Quad HD (2880 x 1440 pixels) P-OLED display.
A bunch of reports surfacing on the internet claims that Pixel 2 XL's P-OLED display produce grainy images and adopts blue tint when looked from a particular angle. No, we are not talking about looking your Pixel 2 XL from an angle which you barely see your device from, but, more natural off-angle situations. In other words, Pixel 2 XL isn't that great when it comes to viewing angles, certainly not better than Samsung's OLED panels. Now, every display does tend to absorb a blue tint when turned to a different angle and that is primarily because, in all AMOLED display, the blue light pixel is generally larger than red and green, hence, producing more light. However, for someone who has used Samsung's AMOLED panel or LG V30's gorgeous display, this might be a let off.
Image Courtesy: Android Authority
The good part here is that Google has acknowledged this highly subjective issue and as per 9to5Google, the company will "continue to pay close attention to people's responses to Pixel." Further, Google is also trying to explore a way to which it can add more color options where people could then customize the screen output as per their needs.
The sad part here is that this is not the only issue which is currently been discussed over the internet. Taking the cue from the recent durability test of Pixel 2 by the famous Zack Nelson from JerryRigEverything, you will be further disappointed with Google's decisions for Pixel 2 and Pixel 2 XL. The plastic feeling paint rubbed all around the aluminium on both the devices will come off pretty easily. So much so that once that paint is off, the fingerprint scanner located at the back of the device will stop working. Further, on attempting the bend test on the Pixel 2, the device actually cracked from the sides. As per Zack, the culprit here is the antenna band position which if pushed with firm force with that angle will result in an ugly crack. For precaution, we would suggest you to not put your Pixel 2 in the rear pocket of your denim or trousers.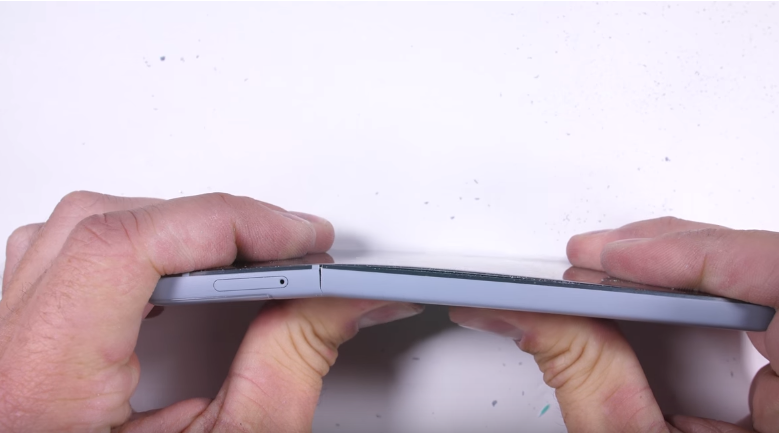 Image Courtesy: JerryRigEverything (YouTube)
Pixel 2 and Pixel 2 XL will be up for pre-orders in India starting 26th October on Flipkart. Pixel 2 starts at Rs 61,000 for the 64GB variant while the big brother Pixel 2 XL starts at Rs 73,000. Even we ignore the pricing, Pixel 2 and 2 XL doesn't really stand out of the crowd. That said, we really hope Google proves us wrong. I am especially excited to test that camera out. What do you think?