Reliance Jio has today announced the pricing of Jio Fiber plans. The Jio Fiber broadband plans start from as low as Rs 699 with speeds of 100Mbps. For those who wish to get higher speeds, Jio is offering plans of up to Rs 8,499 with speeds as high as 1 Gbps.
The company is offering six prepaid plans – Bronze (Rs 699 per month), Silver (Rs 849 per month), Gold (Rs 1,299 per month), Diamond (Rs 2,499 per month), Platinum (Rs 3,999 per month), and Titanium (Rs 8,499 per month). The plans offer 100GB, 200GB, 500GB, 1,250GB, 2,500GB, and 5,000GB bundled high-speed data, respectively.
The Jio Fiber Bronze and Silver plans will offer a data speed of 100Mbps, the Gold and Diamond plans will offer 250Mbps and 500Mbps data speeds respectively, while the Platinum and Titanium plans will both offer 1Gbps data speed. All these are unlimited plans. Once the monthly FUP quota is exhausted, speed will be throttled down to 1Mbps. The extra data will be offered every month for the first six months,after that the data will expire. The company will also offer long-tern 3-month, 6-month, and 12-month plans, apart from these monthly plans.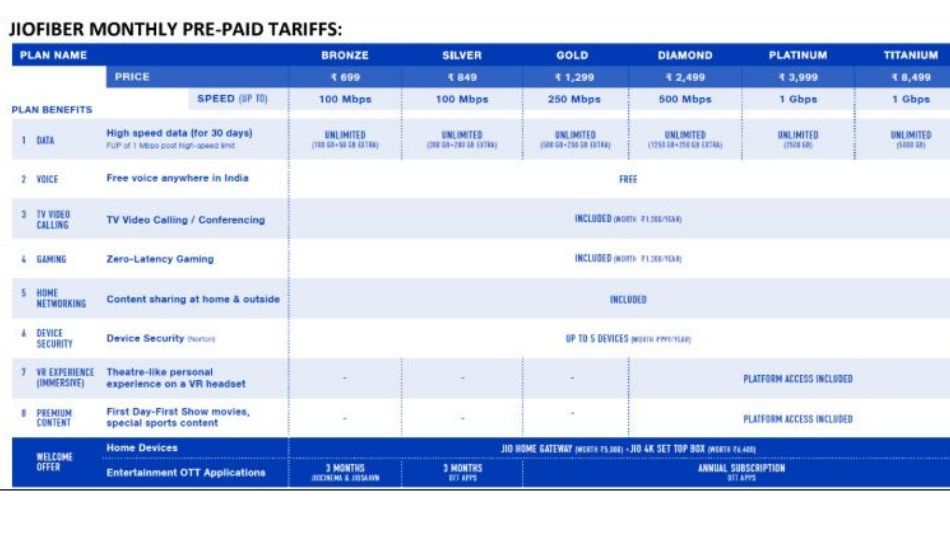 The Jio Fiber service will offer international roaming, data sharing, seamless connectivity between different devices, priority SIM set-up service right at home and phone upgrades.
UPCOMING JIOFIBER SERVICES:
1. Ultra-high-speed broadband (up to 1 Gbps)
2. Free domestic voice calling, conferencing and international calling
3. TV video calling and conferencing
4. Entertainment OTT apps
5. Gaming
6. Home Networking
7. Device Security
8. VR Experience
9. Premium Content Platform
To avail the Jio Fiber service, subscribers will need to make a payment of Rs 2,500 which will include a refundable security deposit of Rs 1,500 and a non-refundable installation fee of Rs 1,000.
The company has also announced a Welcome Offer for the new Jio Fiber customers which will offer three months access to JioCinema and JioSaavn app for Bronze subscribers. The Silver plan subscribers will get three-month subscription for OTT apps, whereas Gold, Diamond, Platinum and Titanium plan subscribers will get free annual subscription for OTT apps. However, the company has revealed the details of the OTT apps it will be bundling.
Jio Fiber users will also be able to get the new Jio Set-Top-Box (STB) which can be connected to a TV to offer a suite of apps and games like an Android TV or Fire TV would do. The STB will come with 4K UHD resolution support, voice assistant functionality, multiplayer gaming and smart home solutions. The Set-Top-Box will be able to run as a gaming console due to the presence of an inbuilt graphics chipset.