Jio has unveiled its latest offering, Jio AirFiber services, in eight major metropolitan cities – Ahmedabad, Bengaluru, Chennai, Delhi, Hyderabad, Kolkata, Mumbai, and Pune. It integrates home entertainment, smart home services, and high-speed Broadband into a single service. The Cheapest Jio AirFber plans start at Rs 599.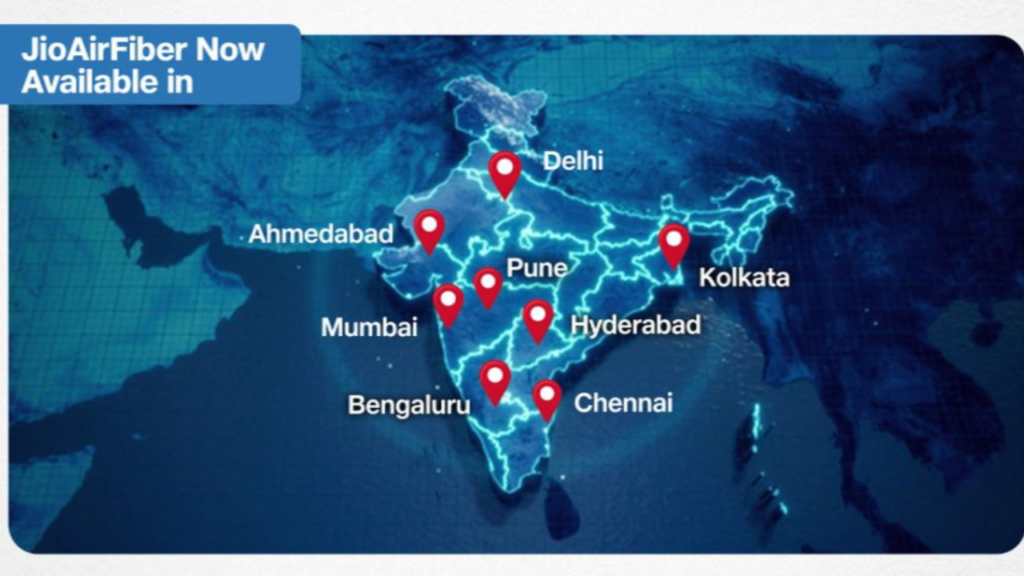 Users who sign up for Jio AirFiber won't need to pay extra for hardware. They'll receive a free WiFi router, 4K Smart Set-Top Box, and Voice-activated remote.
 Jio AirFiber Plans
Jio AirFibre has two categories of plans, namely AirFiber and AirFiber Max. AirFiber provides two-speed options, which are 30Mbps and 100Mbps. The 30Mbps plan is priced at Rs 899, while the 100Mbps plan is priced at Rs 899 with 14 apps, or Rs 1199 with 14 apps along with Netflix, Amazon Prime, and JioCinema Premium.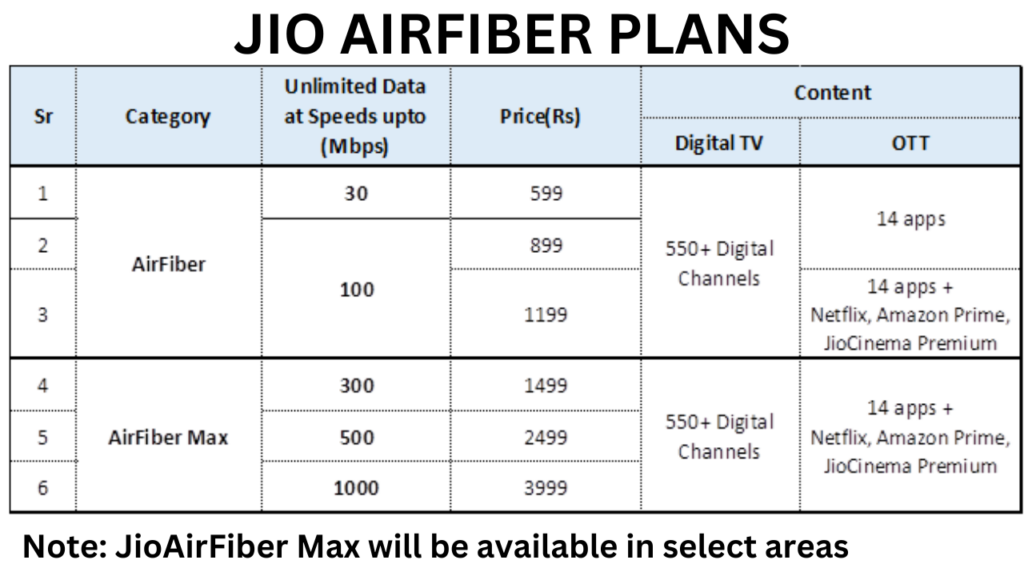 On the other hand, AirFiber Max offers three-speed plans: 300Mbps, 500Mbps, and 1000Mbps. The plans cost Rs 1499, Rs 2499, and Rs 3999, respectively, and include 14 apps plus Netflix, Amazon Prime, and JioCinema Premium.
Jio has said existing Jio Fiber tariff plans will remain unchanged, ensuring continuity for existing users. Jio AirFiber Max will be available in select areas.
How To get Jio AirFiber?
Step 1:
Reach Jio by giving a missed call at 60008-60008, visiting www.jio.com, or going to the nearest Jio Store.
Step 2
Book a Jio AirFiber connection by registering for the service.
Step 3
Jio will contact users to prioritize home connections once services in their buildings are ready.
What is JioAirFiber
Jio AirFiber is a wireless internet service offered by Jio that harnesses the power of 5G technology to deliver high-speed internet access. With the potential to achieve internet speeds of up to 1 Gbps, Jio AirFiber claims to rivals the performance of traditional fibre-optic connections.
How to Set Up Jio AirFiber?
Configuring Jio AirFiber is a straightforward process. Simply plug it in, power it on, and you'll swiftly establish a personal Wi-Fi hotspot within your home or office. Notably, Jio AirFiber distinguishes itself from Jio Fiber by eliminating the need for professional installation of wiring and routers on your premises.