Apple, just like every year, unveiled the next major version of iOS, called iOS 17 at its annual WWDC event for 2023. The new version of iOS brings a host of new features to iPhones, such as a new Journal app, StandBy mode, NameDrop via AirDrop and a lot more. Read on to know more about the new features in iOS 17 and which iPhone models is it compatible with.
iOS 17: New Features
Contact Posters
Apple will be introducing new features in iOS 17 to enhance the communications experience across Phone, FaceTime, and Messages. The Phone App gets personalised Contact Posters, where a memoji or photo of the person would accompany their name on the calling screen.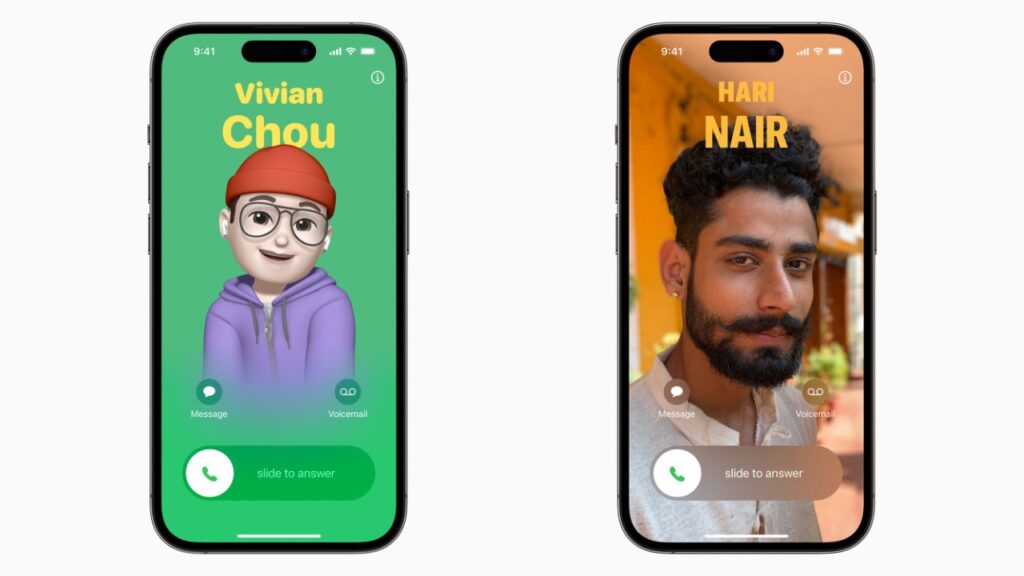 Users can customize how they appear, bringing a completely new look to incoming calls, and choose treatments for photos or Memoji, as well as typography and font colours. Contact Posters will also be available for third-party calling apps, meaning WhatsApp or Telegram calls should appear in a similar fashion.
Live Voicemail
Then there's a live voicemail feature which gives users the ability to see real-time transcription as someone leaves a voicemail, and the opportunity to pick up while the caller is leaving their message. Calls identified as spam by carriers won't appear as Live Voicemail, and will instead be instantly declined. The feature is powered by the Neural Engine and is handled on-device and remains entirely private.
Audio, Video Messages on FaceTime
Next, FaceTime now supports audio and video messages so when users call someone who is not available, they can share a message that can be enjoyed later. FaceTime calls also get more expressive with Reactions such as hearts, balloons, fireworks, laser beams, rain, and more. The new effects can be activated through simple gestures, and third-party video calling apps can take advantage of them as well. Further, FaceTime is now also available on Apple TV 4K.
Live Stickers and other new features in Messages
Next, the Messages app now includes an all-new stickers experience with new Emoji stickers and the ability to create Live Stickers by lifting subjects from photos. Users can also add effects to Live Stickers, and a new drawer in the keyboard puts all of a user's stickers in one place for easier access across iOS.
Then, Search gets more powerful and precise with search filters while a new catch-up arrow indicates where the user last left off in the conversation, and replying inline can be done by swiping on a text bubble. When sending an audio message, it's transcribed automatically so users can read it in the moment or listen later.
Messages also introduces Check In, an important feature for when a user wants to notify a family member or friend that they have made it to their destination safely. After a user initiates a Check In, their friend or family member will automatically be notified as soon as the user arrives.
Apple says that if they are not making progress toward their destination, useful information will be temporarily shared with the selected contact, such as the device's location, battery level, and cell service status. Any information shared is end-to-end encrypted.
NameDrop via AirDrop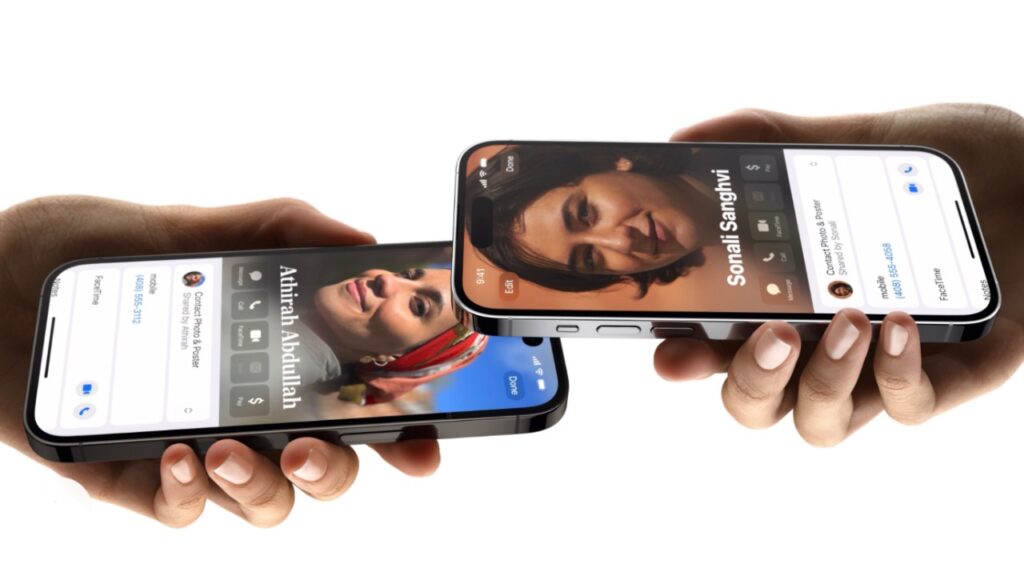 Further, AirDrop is getting new ways to share information, such as NameDrop. It allows users to easily share contact information by simply bringing their iPhones together, or by bringing an iPhone and Apple Watch together. With the same gesture, users can also share content or start SharePlay to listen to music, watch a movie, or play a game while in close proximity between iPhone devices.
Improved autocorrect in Apple Keyboard
Apple Keyboard is also getting an update to enhance Autocorrect with a transformer language model, a machine learning language model for word prediction — improving the experience and accuracy for users every time they type. It also receives a refreshed design to better support typing, and sentence-level autocorrections can fix more types of grammatical mistakes.
Then users will now receive predictive text recommendations inline as they type, so entire words or completing sentences can be added by tapping the space bar. Dictation leverages a new speech recognition model to make it even more accurate.
StandBy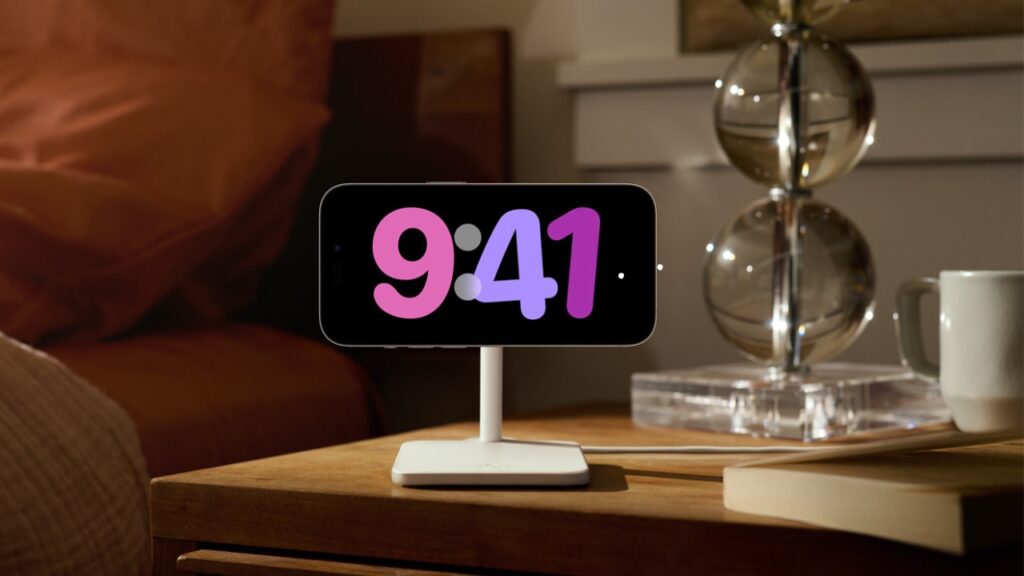 Coming up next is StandBy, which gives users glanceable information on the iPhone screen. It comes up when the iPhone is on its side and charging, and is designed in a way so it can be viewed clearly from a distance. It can display a range of beautiful clock styles, user's favourite photos, or widgets, including Smart Stacks, which surface the right widgets at the right time.
StandBy also supports Live Activities, Siri, incoming calls, and larger notifications. When charging with MagSafe, StandBy remembers a user's preferred view. One can activate StandBy by tapping the screen, and on iPhone 14 Pro with the Always-On display, it is always available.
Journal App
A new app called Journal is also making its way to iPhone. It is a new app that helps iPhone users reflect and practice gratitude through journaling, which has been shown to improve wellbeing, according to the company. Using on-device machine learning, personalised suggestions can be provided to help inspire a user's journal entry, says Apple.
The app comes with a lock feature as well. With the use of on-device processing, and end-to-end encryption, Journal is built with privacy in mind and ensure no one — including Apple — can access a user's entries.
Other new features
AirTag can now be shared with up to five other people, which will essentially allow friends and family to keep track of an item in Find My.
AirPods are receiving new updates such as Adaptive Audio, Personalized Volume, and Conversation Awareness. More features are also being introduced, such as automatic switching.
The Home app adds the ability for users to view up to 30 days of activity history.
Siri can be activated by simply saying "Siri." Once activated, users can issue multiple commands in succession without needing to reactivate the assistant.
Safari will now have Face ID/Touch ID lock support when users are in a Private Browsing session.
New privacy and accessibility features are also making their way to iPhones with iOS 17.
And more.
iOS 17: Compatibility, Availability
iOS 17 is compatible with the following iPhones:
iPhone 12
iPhone 12 Mini
iPhone 12 Pro
iPhone 12 Pro Max
iPhone 11
iPhone 11 Pro
iPhone 11 Pro Max
iPhone XS
iPhone XS Max
iPhone XR
iPhone SE 2nd generation
The developer beta of iOS 17 is available to Apple Developer Program members at developer.apple.com starting today, and a public beta will be available next month. The software update is slated to arrive this fall, presumably alongside the iPhone 15 series.