After giving a preview of the processors back at Computex 2019 trade show in Taiwan in May, Intel has finally unveiled its 10th generation Intel Core Ice Lake processors based on the 10nm Sunny Cove architecture for thin-and-light laptops. The new lineup consists of 11 new chipsets ranging from Core-i3 to Core-i7, the top of the line labelled Core i7-1068G7, being the most powerful of the lot.
Intel is breaking up the 11-chipset lineup into U-series and Y-series processors. The U-series is built for ultraportable laptops while the Y-series is designed to be used inside ultra-slim laptops like the MacBook Pro.
The 10th generation Intel Core processors are built on the company's 10nm process technology, a new "Sunny Cove" core architecture and new Gen11 graphics engine. The CPU is designed to enable high-performance AI with up to 2.5x AI performance through Intel DL Boost.
As for the Y-series lineup, Intel offers a set of two Core i1, two Core i5 and one Core i7 processor models. All five of these processors come with 9-watt power requirement, meaning the processors require no fans and thus are designed for ultra-slim notebooks. This is significant from the '0' in the fourth digit of the model numbers of all Y-series chips which are named as 1000G1, 1000G4, 1030G4, 1030G7, 1060G7.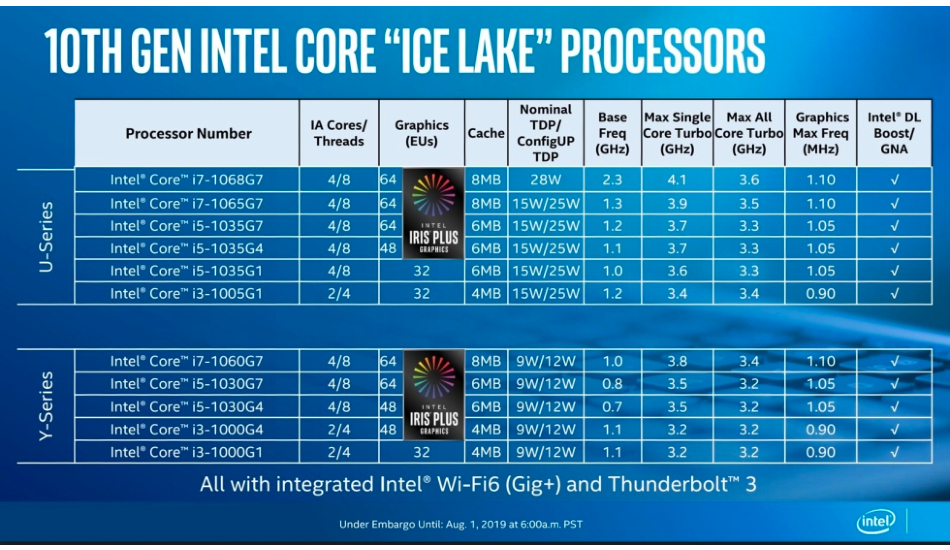 The Intel Y-series processors come with a range speed of 0.7GHz base on the Core i5-1030G4 to 3.8GHz on the Core i7-1060G7. All models except the Core i3 are quad-core processors. The Core i3 models are dual-core CPUs. Only the Core i3-1000G1 comes with no Iris Plus graphics while the others feature 48 or 64 execution units for graphics.
The U-series processors, on the other hand, consists of one Core i1, three Core i5 and two Core i7 models. The speeds of the models Ange from a base clock of 1GHz on the Core i5-1035G1 all the way up to 4.1Ghz on the top-end Core i7-1068G7. While the highest-end Core Core i7-1068G7 needs a 28W source, others in the U-series can be configured with 15W or 25W power.
Additionally, the Icy Lake chipsets include support for WiFi 6 and Thunderbolt 3. The new graphics architecture delivers up to 1 teraflop of vector compute and that coupled with Intel Iris Plus graphics offers pro-level content creation capabilities. The chipset offers support for 2x HEVC encode, 4K HDR content and up to 2x faster FPS.
Intel says the 10th Gen Ice Lake processors will be available through 35 laptops which will release later this year. We can expect laptops with the latest processors sometime during September when the IFA 2019 trade show kicks in.