Intel has officially unveiled additions to its 8th Gen Core family with the new U-series and Y-series processor which were previously codenamed Whiskey-Lake and Amber-Lake chipsets. Both processors are designed for the next generation of 2-in-1 convertibles and ultrabooks to deliver better data speeds over WiFi and longer battery backup while on the go.
Starting off, the new U-series Whiskey-Lake chips include the Core i7-8565U, Core i5-8265U and Core i3-8145U, all of which offer support for Gigabit WiFi and Alexa + Cortana voice assistants. All of this will be possible with an improved battery life of up to 16 hours on a single charge while some systems will be able to stretch it as far as 19 hours on deeper power optimisation.
The most powerful of the three U-series chips is the quad-core Intel Core i7-8565U which can clock to up to 4.6GHz on TurboBoost from a base speed of 1.8GHz. The cheaper quad-core i5-8265U and dual-core i3-8145U can both achieve a peak speed of 3.9GHz.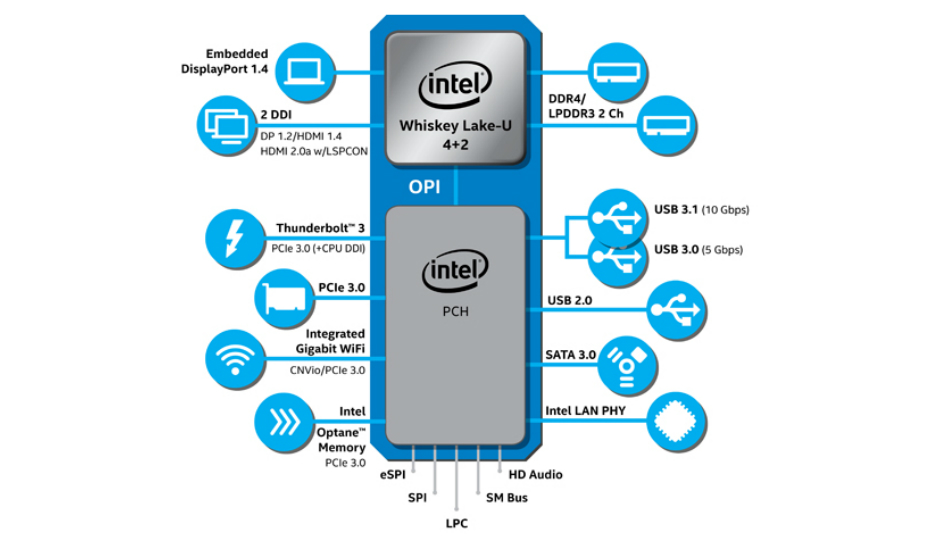 Next in line is the Intel Y-series Amber-Lake processors which include the dual-core Core m3-8100Y, a Core i5-8200Y and a Core i7-8500Y. Unlike the U-series chips, the Amber-Lake processors aren't as feature packed and focus mainly on power efficiency and faster WiFi & LTE speeds. The Y-series chips are less powerful ranging from 1.1GHz (Turbo-boosted to 3.4GHz) on Core m3-8100Y to 1.3GHz (Turbo-boosted to 3.9GHz) on Core i5-8200Y to 1.5GHz (Turbo-boosted to 4.2GHz) on the most expensive Core i7-8500Y version.
Commenting about the launch, Intel Mobile Client Platform GM, Chris Walker said "The new 8th Gen Intel Core processors extend once again our leadership in delivering exceptional performance. Now with Gigabit Wi-Fi, we've enabled faster PC connectivity, added more intuitive voice experiences and enabled longer battery life needed for the next wave of mobile computing".
Both the U-series and Y-series chipsets will be commercially available on laptops by the end of 2018.