Instagram has today announced to two new features to block offensive comments and minimise spams on its platform. The company says that both the tools are designed to keep "Instagram a safe place for self-expression".
Instagram further highlights that the latest filters rely on machine learning and it will improve over time, as they will become more familiar to identify offensive comments and spams. Starting with the blocking offensive comments, the filter will block certain offensive comments on posts and in live videos.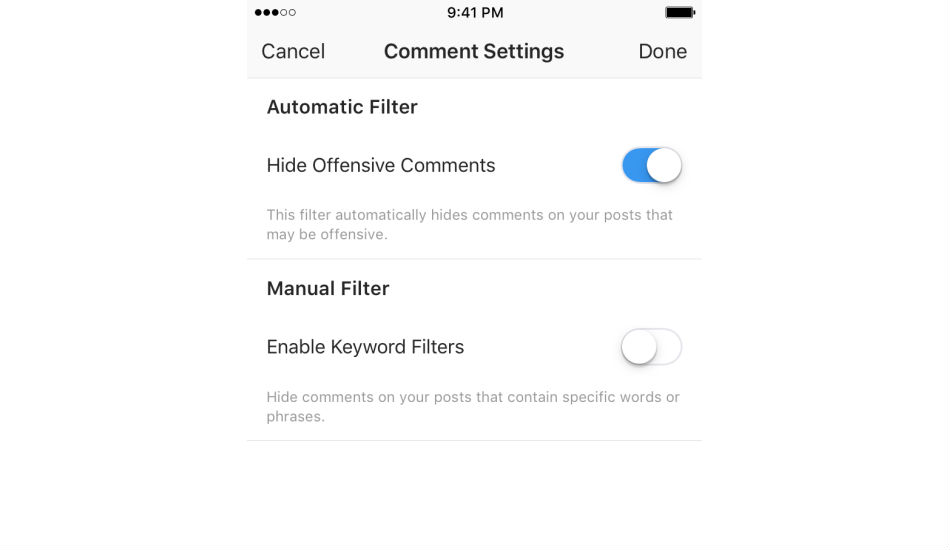 However, other comments will appear as they normally do and one can still report comments, delete comments or turn them off. In order to access it, one needs to click the settings menu from the profile and scroll to tap "Comments." Their users find the option to hide offensive comments. Though this comment filter is only available in English, the company will eventually offer it in more languages over time.
Coming to the spam filter, it looks for any obvious spam in comments, blocking it from your posts and live videos. The filter will remove spam written in English, Spanish, Portuguese, Arabic, French, German, Russian, Japanese and Chinese. The latest filters are available for iOS users at the moment and there is no information about the availability on the Android platform.
Recently,
the brand introduced the ability to send website links in Instagram Direct

with an update. Starting with the orientation feature, users can now send a permanent photo or video to their friends in Direct without cropping it. Earlier, it was not possible to send an image or a video in its original form as one need to square. This is a welcome move as it will help people to share images without cropping it.
Secondly, the company has added the support for links in Direct. This will allow users to share website links with friends and preview them directly from the third. Further, one can also see links for phone numbers and addresses.
Instagram recently introduced a host of new features

to further improve the user experience of its mobile apps. The latest update brings different sets of face filters in the camera, a new Rewind feature in videos, hashtag sticker and a new eraser brush. In order to use these features, users need to update their app to the latest version 10.21. The update is available for both iOS and Android users.