Huawei's sub-brand Honor showed up at IFA last night and teased the successor to the original Honor Magic smartphone which was initially launched in 2016. Named rightly as the Honor Magic 2, the device will be the first to be powered by Huawei's upcoming Kirin 980 chipset which is slated for an official unveiling later today.
GSMArena reports the announcement came through Honor's President George Zhao who hinted at a few key features of the follow-up to their AI-powered Magic smartphone. The biggest new change comes in the form of a 'FullView' display which has no notches and no chins as well and just the display on the front of the phone. Since such a design will leave no room for the front camera and necessary sensors, the Magic 2 will have a slider camera, very similar to the one on the Oppo Find X.
However, unlike that of the Find X which had motorised cameras, the Magic 2 will need the user to slide it out with your hand which is what Zhao did at the presentation of the upcoming smartphone. It could also be assumed that the device could be an early engineering piece and might still have a motorised slider when it goes into production. What we also don't know is whether the back cameras will also be included within this sliding unit like what we saw on the Find X.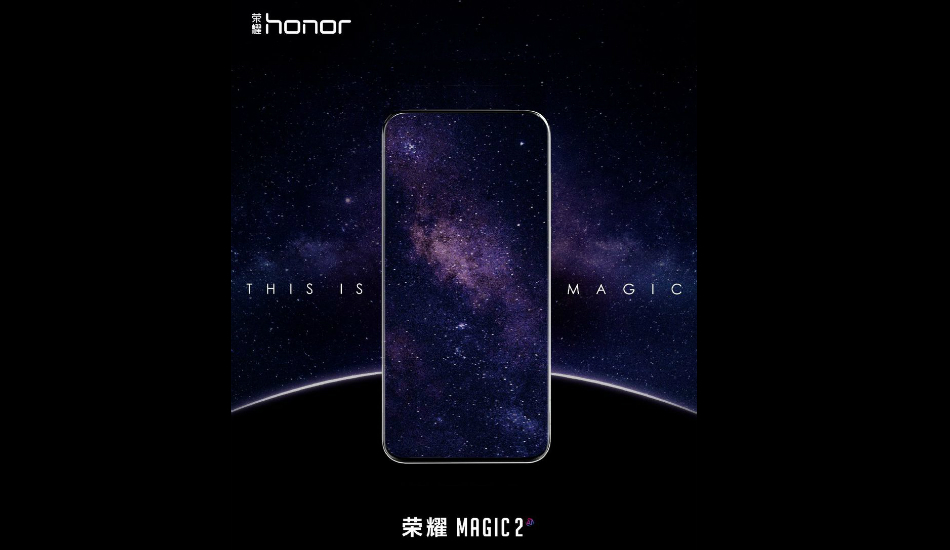 The Honor Magic 2 will be powered by the yet-to-be-announced Hisilicon Kirin 980 chip which Zhao said will provide better performance than the Kirin 970 with improved AI capabilities. The system-on-chip itself is expected to be unveiled later today at Huawei's IFA keynote and is speculated to be built on TSMC's 7nm process that should provide 20 percent more power and 40 percent more battery life compared to its predecessor.
It was also revealed that the Magic 2 will boast of an enhanced Magic Charge technology that will make use of a 40-watt charging adapter. That's twice as much as what powers the OnePlus 6 and Honor has ensured that such charging speeds will be safe due to the inbuilt 15-layer safety protection system and auto identification of three critical parts when charging.
A teaser video which was played on stage also revealed that 'two years' had passed since the Original Magic smartphone was unveiled and thus hinted that Honor Magic 2 could follow its predecessor for a December 2018 release, precisely two years after the original Magic smartphone debuted.