The much hyped keypad of upcoming Ice Cream Sandwich operating system can now be used in older Android devices, an independent developer &#151 Johntanmi, has announced. If true, then the popular word suggesting and auto spelling correcting keypad can be installed on the older devices running android version 2.2 and above.
Although users won't be getting the whole new operating system but still they will be able to look and feel what the new OS is like.
Besides auto word suggestions based on keystrokes, the keypad of older Android devices will also be supporting multi touch. The auto correction functionality will also get a facelift with this software, making them more accurate reducing typing errors.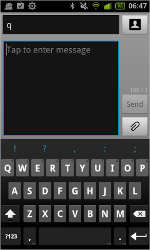 Voice related commands and typing has also been enabled for the keypad with this software and users will now be able to speak to their devices while the devices translate it to text.
Although the software is still in beta phase, there might be some bugs in the built but the developer has promised that the bugs will be worked upon as and when users point them out. The developer has also provided a donation version of the software along with the free version. The only difference between the two is that people using the donation version will get faster updates and different design themes as well for their devices to match their style.
The application is available for download from Android Market. Users who wish to install it can visit the marketplace from their smartphone or they can follow this link to download it directly.