A new version of Humble Bundle, which offers a bunch of games for much less than the combined market price of the games, is now out for Android devices. The new Humble Bundle 3, which was released with two games, has now also added four new games.
Humble Bundle is a system that offers money to developers directly along with giving money for charity as well as Tip for the guys who have made this possible. Users can choose any amount ranging from $1 (Rs 50) onwards but they have to pay atleast $6.42 (Rs 300) to unlock the set of five games which normally would cost more than Rs 5,000.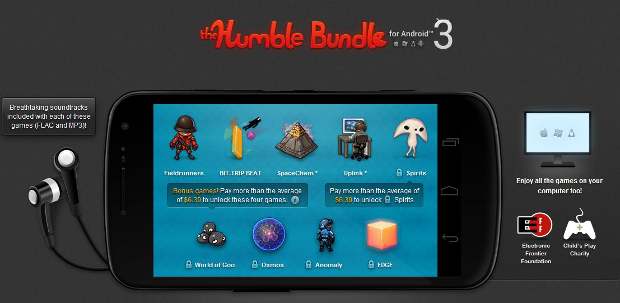 In the Humble Bundle 3, there are five games that includes T.TRIP BEAT, Fieldrunners, SpaceChem and Uplink all as the part of the deal. Plus your purchase lets you access PC/Mac/Linux versions of the titles, too with the same amount without any additional fees. And if users pay more than the average payment figure of just over Rs 300, they will also get another game – Spirits – as well all part of the bundle.
Users paying and purchasing the Humble Bundle will also get a Steam key in addition and it will allow users to access DRM-free direct downloads for sound files as well. The Humble bundle 3 for android can be accessed here.