Chinese smartphones manufacturer Huawei has filed for a patent at the World Intellectual Property Organization (WIPO) which hints at a wearable that can also double up as a portable gaming device.
Instead of using a traditional touchscreen or a crown, the patent reveals a smartwatch that will be operated through its watch band. The strap would be enabled with several gestures to play first person shooter and racing games where users would need to move and control swiftly.
According to LetsGoDigital, there's a square-shaped watch with a band attached which is touch sensitive and as per documentation will provide the watch with different swiping gestures. Besides gaming, the watch as shown in the patent will also be able to text a reply on the go, select texts while reading and act as a cursor while browsing through your smartwatch.
Hauwei's gaming smartwatch will equip a gyroscope and an accelerometer to also read gestures when a watch is pulled from either side or is twisted to perform a specific action. The Huawei watch is also envisioned by the company to play games horizontally where a user will be holding his watch with bands on both sides of the watch held with their hands.
The patent also reveals that there is a front-facing camera on the upcoming Huawei smartwatch with can be useful for clocking selfies as well as a shutter activator. The screen and bands being touch sensitive will be able to browse through the pictures and control the zoom inside the camera using the pinch gesture on the display or the watch band.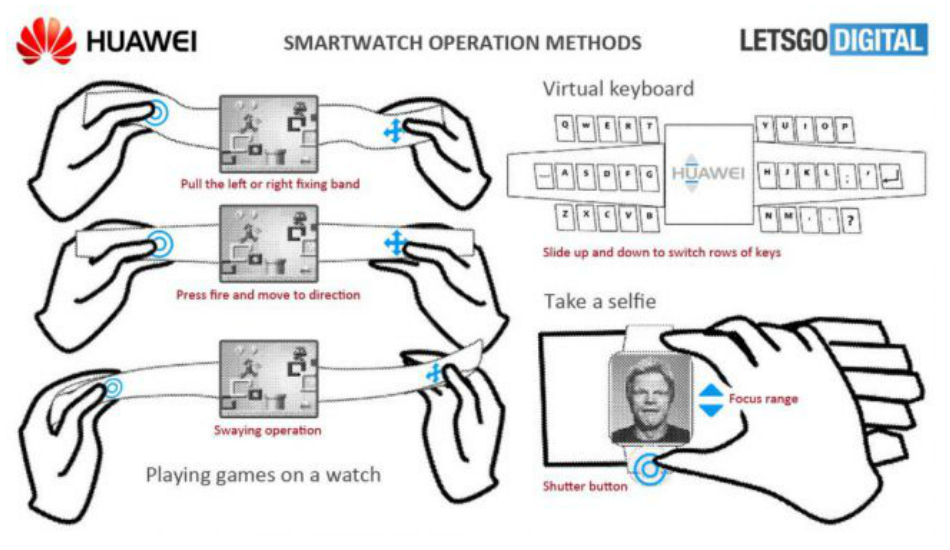 While its rivals like Xiaomi, ZTE and Razer went all in for a gaming smartphone, it remains to be seen how Huawei executes the development of this patent, though it might just be in its development stages. With smartwatch displays being too small, it looks like a bright idea to have included an additional means to interact with it through its straps. We don't think we'll see any of these features on the next iteration of the Huawei Watch but it's never a bad time to know something exciting is on the cards.