After Oppo and Xiaomi revealed their versions of the technology, their Chinese competitor Huawei has now made its move for the under-display camera. The company has filed a patent at the German Patent and Trademark Office for how the user interface would look like an under display module is incorporated.
The images shared by the folks at WinFuture reveal how Huawei plans to use the display above the camera in a different way. While Oppo's and Xiaomi's in-display camera modules showed cameras at the centre of the screen, Huawei's design implies that the camera will be located on the top left corner of the display, where notifications pop up.
Huawei is also looking to go the other way by not making the front camera completely invisible. From the images shared online, the patent reveals that users will be able to locate the camera through an outline that will be present even if the camera isn't being used.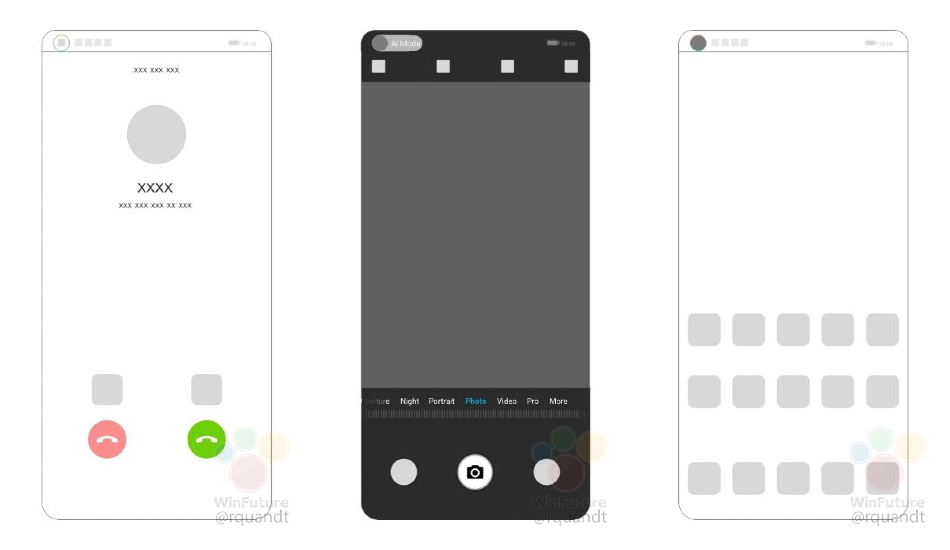 Another interesting feature in the UI is how Huawei implements the display above the camera for different purposes. When inside the camera app, the display at the top will read AI Mode with the text positioned right next to the camera. When on call, the UI will show you the call info and the time you've been on the call. It's possible that the display above the camera has been positioned to the left to show the most important notification whose icon pop up inside the ring.
At this time, it's unclear whether Huawei is working on a phone with an under-display camera. The company is, however, ensuring that its idea of the next-gen UI where in-display cameras will be present doesn't get stolen by others.