HTC Vive has today announced the launch of its latest virtual reality system known as Vive Cosmo. The latest device will be available for pre-orders pretty soon and it will be available globally and in India in October during festive season.
HTC Vive Cosmos is the latest premium PC-based virtual reality (VR) system. To start with, the new Vive Cosmos comes with a new tracking system that offers simplified setup. It comes loaded with a 3.4-inch dual LCD screen with a combined resolution of 2880 x 1700 pixels. It also features 90Hz refresh rate and 110-degree field of view. It comes with a new flip-up design that allows users to between reality and virtual reality.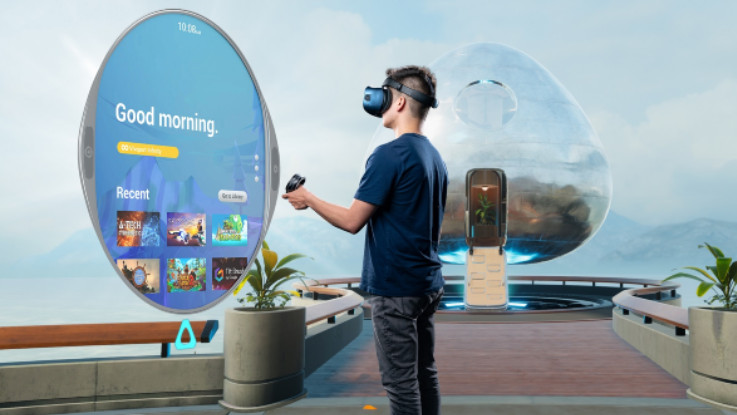 Cosmos also features completely redesigned controllers that maximize functionality within VR and offer extended comfort during long play sessions. Cosmos is also compatible with the Vive Wireless Adapter for those who want to enjoy moving in VR without being tethered. The company has also introduced the first official mod known as Vive Cosmos External Tracking Mod. This first base station-compatible mod supports Vive's ecosystem of peripherals including the Vive Tracker, delivering unprecedented input freedom for VR controls. This new mod will be available in Q1 of next year.
Users can enjoy different content using Viveport Infinity subscription. This will give access to hundreds of top-rated VR apps, games, and videos like A Fisherman's Tale, Fujii, and Ninja Legends, as well as premium videos from top brands like GoPro, Discovery channel, and Animal Planet. In tandem with the Vive Cosmos launch, Viveport Infinity will be adding new titles such as Doctor Who: The Edge of Time by Maze Theory, Playstack, and BBC; Eleven Eleven by Syfy; Battlewake by Survios; Gloomy Eyes by Atlas V and 3dar; and Swords of Gargantua by Yomuneco and Gumi; and MLB Home Run Derby by MLB.
The VR system comes with built-in stereo headphones. For connectivity, it requires a PC with USB 3.0, DisplayPort 1.2. It also features a USB Type-C 3.0 port and proprietary connection to mods. It requires with no minimum space requirements for standing or seating.