PC and laptop manufacturer, Hewlett-Packard (HP) though could not enjoy enough glory with its Windows 7 based tablet – Slate 500, the company is ready for second innings. Neowin.net, a technology related website, has reported about a leaked presentation slide of HP that points at a Windows 8 based tablet being planned by the company. Named as HP Slate 8, the tablet will feature 10.1-inch display and will mere 9.2mm thin.
HP did plan to go big with the Windows 7 operating system based tablets and started off with the HP Slate 500 across the globe. Apparently, consumers were more inclined towards the Apple iPad and Android OS based tablets. Meanwhile, HP purchased Palm back in mid-2010 and rumours of the Palm WebOS based tablets started making rounds.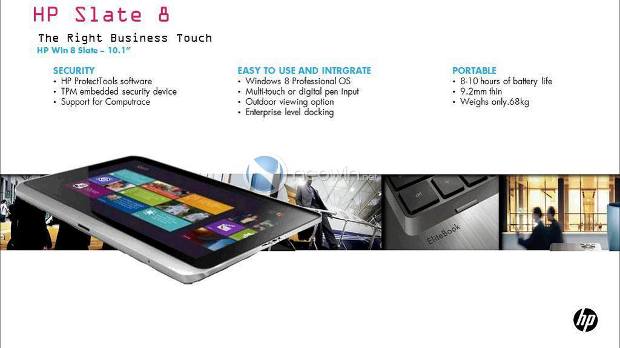 Now a presentation slide carrying a Windows 8 based tablet mockup was leaked along with some basic information about the slate. To be branded as HP Slate 8, this tablet will feature 10.1-inch touchscreen display. Interesting part is that this HP Slate 8 will not feature ARM based processor. Its description mentions that the tablet will run Windows 8 Pro operating system – mostly targeted towards enterprises.
This HP Slate 8 might feature the Intel Atom 'Clover Trail-W' processors set to be unveiled in late third quarter of this year. Besides, the Slate 8 will offer multi-touch and stylus support. In total, the Slate 8 is expected to offer battery life of 8 to 10 hours according to the information listed on the slide.
Other distinct features of this tablet include virtualisation support, PC Management, domain connectivity and enterprise level docking. The HP Slate 8 may not exactly look like the one in the mock-up but certainly comes with interesting set of features.
We can expect HP to announce this tablet sometime later this year.