As DTH operators suffer the wrath of technology like the 'cable-wallahs' did a decade ago because of them, the adoption of streaming services is growing as the days pass by. While DTH service providers and users continue getting downplayed by TRAI for one thing or OTT services like Netflix, Youtube, Hotstar and Prime video have been engaging more and more users in India. Amongst the many apps available, it's Netflix which dominates the online streaming game as it offers a wide range of movies, TV shows and documentaries in its library.
However, Netflix is also by far the most expensive streaming service in India, costing a minimum of Rs 500 per month which is half of what users pay for an annual subscription to Amazon's Prime Video or Hotstar. So how else would you be able to watch shows and movies on Netflix without paying the high monthly premium? Here are some ways to get free Netflix for free in India.
One month of free Netflix streaming
While Netflix generally requires you to pay for a subscription on a monthly basis, your first month on the streaming service will be available for free and won't be charged. While this needs you to enter your credentials including bank account information, Netflix won't charge you a single dime, if you cancel your membership before the end of the one-month period. It's necessary to note that users won't be able to access this one-month free content again through the same account or same payment method unless they have access to multiple payment options.
To access the one month of free Netflix:
1. Open Netflix.com on your desktop or download and open the Netflix app through the Google Play Store or Apple App Store.
2. Upon opening the site, you'll be greeted with a big red button that reads "Try 30 days free".
3. You'll then be lead to a new page which informs you that you won't be charged until your free month expires and also says that Netflix will remind you three days in advance when the free period is ending.
4. You can then choose the plan that you might want to be charged later. In case you're only here to access Netflix for free, we suggest you opt for the basic Rs 500 plan and click 'Continue'.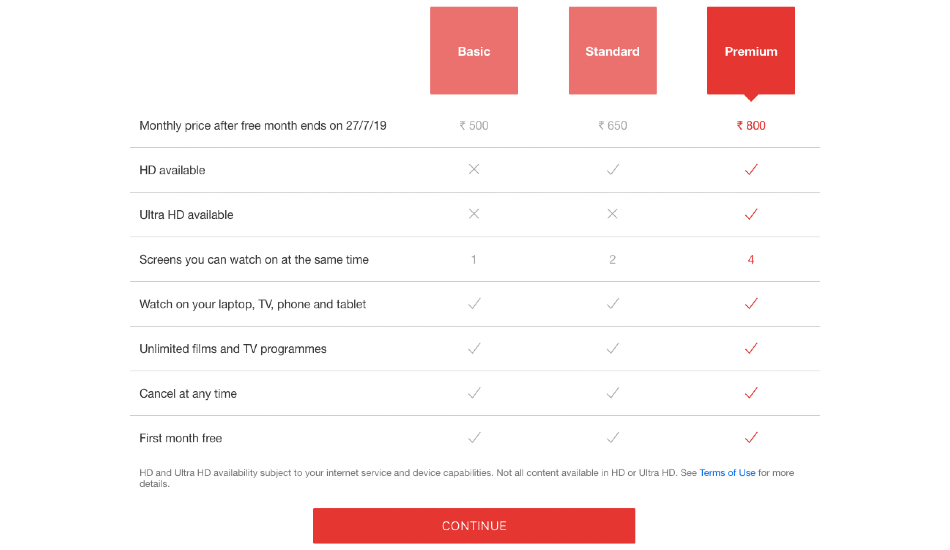 5. You will then have to set up your account by adding your email ID and your desired password for the account.
6. You will then be lead to the payment page. You can add any payment option to the Netflix account and rest assured that Netflix won't charge you before the 30-day deadline. If you wish you to cancel your subscription during this period, you won't have to pay any subscription fee and can thus get a month's content on Netflix For free.
Besides this, users can also choose to access Netflix without paying a monthly bill by activating bundled plans offered through different carriers and data providers. Airtel, Vodafone and ACT Fibernet are among the few who offer free subscriptions to Netflix when applying for their postpaid, prepaid or broadband plans.
How to get free Netflix using Airtel postpaid connection
Bharti Airtel recently started pushing the Airtel Thanks initiative in India offering postpaid customers various benefits one of which is free streaming on Netflix. Customers who are promoted to Airtel Thanks Gold and Platinum memberships will have access to 3 months of free Netflix.
Users in Gold and Platinum tier of Airtel postpaid will be able to avail free Netflix without paying a monthly premium. Currently, Airtel is hosting four post-paid plans – Rs 499, Rs 749, Rs 999 and Rs 1,599. All four of these postpaid plans are bundled with three months of Netflix for new users worth Rs 1,500.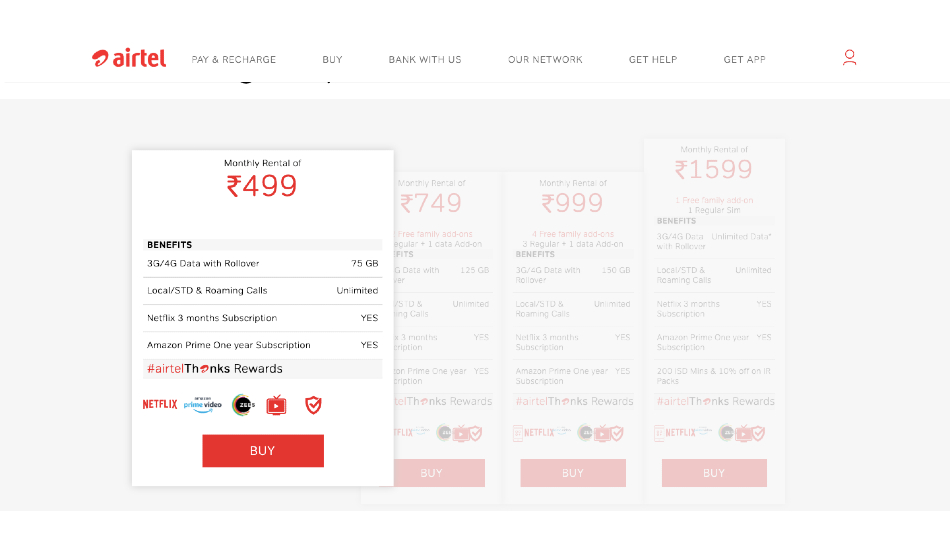 This Rs 1,500 can also be availed by existing Netflix users through a gift card that will show up as remaining balance in the user's account. After the first 3 months are over, a monthly charge of Netflix will be billed with the postpaid connection. For existing Netflix users using the gift card option, regular payment mode will continue after the three-month period or till the gift card balance lasts.
In order to activate free Netflix through Airtel, you'll need to be on Airtel's Rs 499 postpaid plan or higher and then log in to the Airtel Thanks app on your phone. Once in, click on the Netflix card inside the Airtel Thanks page and avail the gift offer.
How to get free Netflix through Airtel V-Fiber connection
In the latest offering, Airtel has upgraded its V-Fiber subscriptions by offering access to Netflix as per its latest Airtel Thanks program. Similar to its postpaid users, Airtel V-Fiber users having a plan Rs 1,099 or higher will be able to access Netflix For free for three months in addition to one year's subscription to Amazon Prime.
Free Netflix is available to Airtel V-Fiber users with these three plans – Rs 1,099, Rs 1,599 and Rs 1,999. In order to activate the Netflix offer, users will have to follow the same procedure as mentioned above with an Airtel postpaid connection. Log in to the Airtel Thanks app on your phone. Once in, click on the Netflix card inside the Airtel Thanks page and avail the gift offer.
How to stream Netflix For free with Vodafone RED Postpaid Connection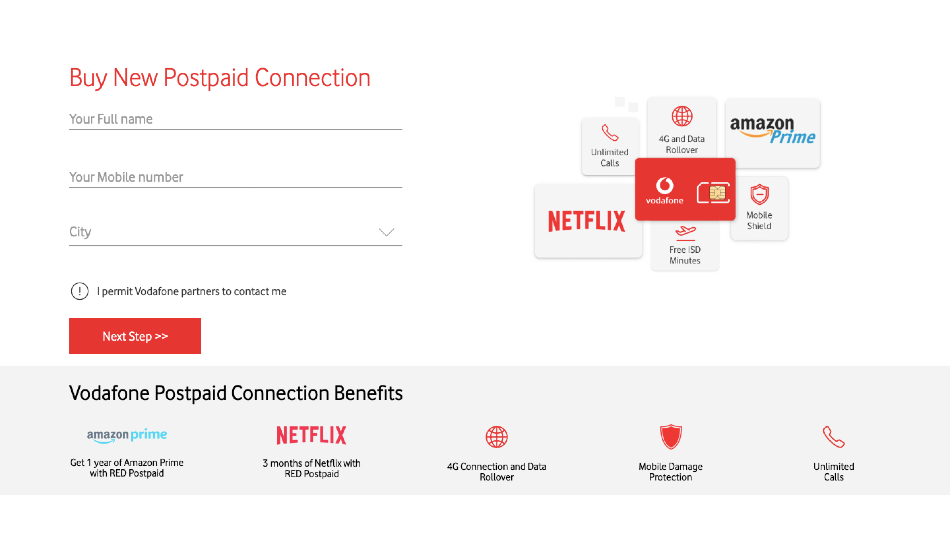 Similar to Airtel Thanks, Vodafone is offering three months of Netflix subscription for users switching to its Vodafone RED Postpaid plan. Vodafone RED benefits can be availed on a minimum recharge of Rs 399 which also additionally offers a year's subscription to Vodafone Play and Amazon Prime.
These benefits can be availed by downloading the MyVodafone app on your phone and logging in with your mobile number. Once you log in, you'll be able to activate the free Netflix subscription by heading over the Vodafone Red benefits page on the app.
How to access Netflix through ACT Fibernet broadband connection
Earlier this year, ACT Fibernet partnered with Netflix to offer its 6-month or 12-month subscribers with an option to pay for their monthly Netflix membership through their bill. Not just that, if a user pays for Netflix using their ACT Fibernet bill, they'll also earn an assured cashback of up to Rs 350 per month which will be credited to their ACT bills.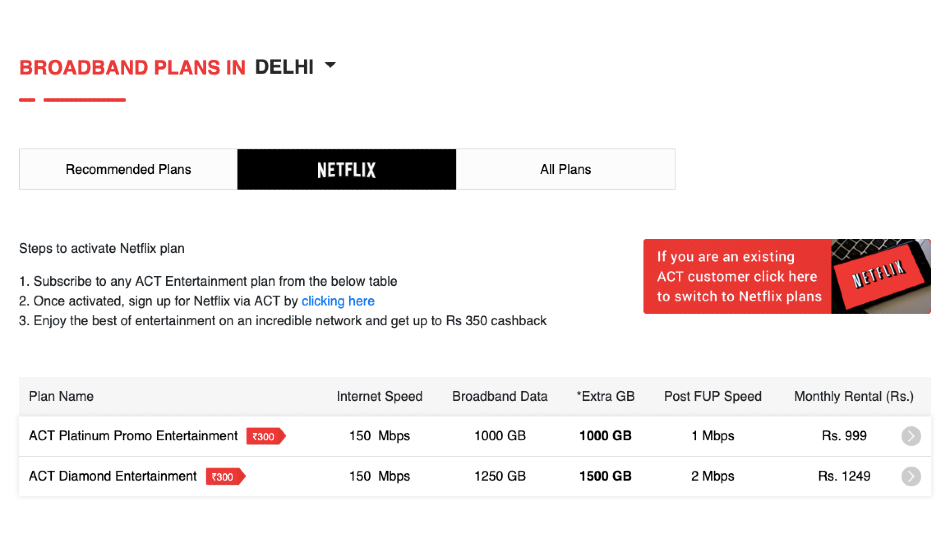 Users will be able to access the offer when subscribing to Netflix and linking the account to the ACT Fibernet. When the payment results in success, ACT Fibernet will offer the eligible cashback onto your account which can then be used to make bill payments later.
The ACT Fibernet – Netflix offer is available in Bengaluru on ACT Storm, ACT Lightning, ACT Incredible and ACT Giga broadband plans while users can access the same with Platinum Promo and Diamond plans in Delhi. For users in Chennai, the ACT Fibernet – Netflix offer will be available on Blast Promo, Storm, Lightning, Thunder, Incredible and Giga broadband users. Lastly, Hyderabad customers can access this offer through A-Max-1050, A-Max-1299, Incredible and Giga plans.