Both HCL MeTab U1 and Micromax Funbook were launched within a span of a few days and both of them are focused on education. Here we've compared the two.
Hardware
Both tablets have more or less the same hardware and software. Both have 7 inch capacitive touchscreens with 800 x 480 pixel resolution. Both are based on Android 4.0.3. However, while the Micromax Funbook does offer access to Google Play app store MeTab doesn't, and this is a big flaw as it means that one will not have access to the lakhs of apps on Android's app store.
HCL MeTab also has a slower 1 GHz processor compared to the 1.2 GHz unit that powers the Funbook (however this difference could be the result of overclocking as both use ARM A8 processors). On the RAM front both use a 512 MB DDR3 RAM, which is low for an Android 4.0 device.
There is a front facing VGA camera on both tablets and neither has a rear camera. HCL MeTab scores higher than Funbook because it has a 3600 mAh battery; compared to Micromax's 2800 mAh unit.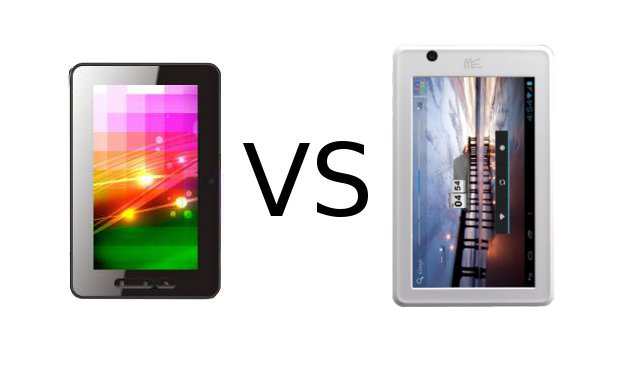 In terms of connectivity too both have the same feature list with HDMI and USB ports, and WiFi support. Neither has 3G, but Micromax is offering a free Tata Photon dongle with the tablet, making it a better offer.
Micromax is also priced better at Rs 6,500 compared to HCL MeTab U1 at Rs 7,999.
Educational content
Micromax and HCL differ in their content strategy. Micromax offers an educational content marketplace called Vriti, where there are 500 different course materials from about 30 content publishers. These materials can be bought starting at Rs 50 and going up to thousands of rupees.
HCL has varying content plans for its different MeTab tablets. MeTab U1 doesn't have any content and is priced at Rs 8,000 while the, K12 version which offers course material from KG to 12th is priced at Rs 11,499 (Rs 3,500 for the content,) and the higher education version, on which some content can be accessed on the cloud is offered at Rs 10,000 (Rs 2,000 for content and cloud access).
While in terms of content both have something to offer, we like the Micromax deal better because it offers all the choice and doesn't force any content on users; while HCL's tablet limits the choices.
The Micromax offering is also much more scalable. It is a third party offering on the Micromax Funbook and the content creator has announced that its platform will be available for all Android tablets, but then Micromax is not charging for education content.
Availability
Both companies are India based and have a very strong presence here. Micromax being a mobile phone brand has wider reach, but then it has limited the launch to 50 cities right now. HCL on the other hand is an IT company selling laptops and other IT products therefore its network is slightly limited. In terms of service, HCL's network is stronger as it not only supports its own products, but also products from several other brands; while Micromax relies more on third party services.
Verdict
We have not tested these tablets, but going by first impressions, the made in India Micromax tablet is slightly better.
In terms of price and availablity Micromax Funbook is a clear winner and has the same hardware as HCL; we don't think our opinion is going to change even after testing the hardware.