HCL Learning, the education and learning division of HCL Infosystems, has launched a new tablet called MyEduWorld. The tablet runs on Android 4.0 operating system and is priced at Rs 9,999.
"The MyEduWorld, an interactive learning product from HCL, is a first of its kind product in the country that helps the child learn at his or her own pace at home or even while travelling," HCL said in a press release.
Apart from having school curriculum mapped digital content, the product is also equipped with quiz engine, educational applications, games, educational videos and e-books for self-paced learning.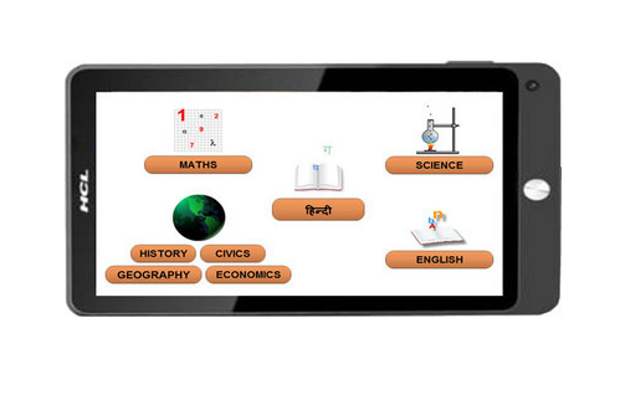 Besides the school curriculum mapped digital content from KG to 12, MyEduWorld offers a content repository of more than 6,000 visually rich 2D-3D animations, real-life examples, step-by-step illustrations and has more than 25,000 solved examples and 15,000 quizzes. MyEduWorld also has educational applications like problem solver, online encyclopedia, live-videos etc., available free of cost. Moreover to keep a track of self-learning, students have access to Assessment-Engine which is a gateway to more than 75,000 + question banks.
Parents too can keep a track of their kids as analysis and reports are sent over emails.
Speaking on the occasion, Rothin Bhattacharyya, executive vice president- marketing, strategy, corporate development, HCL Infosystems, "Today the need of the hour in our education system is to make the learning process more engaging and interesting. MyEduWorld has been created to enable students to learn in a faster and smarter manner. A stimulating environment, interactive tools, focuses on concept understanding and real life examples which are all part of MyEduWorld are geared to provide students with a truly learning experience which they imbibe for a lifetime."
The tablet's educational content is also available in a pen drive, Called MyEduWorld- USB Drive, the pen drive can be used on PCs and laptops Windows XP (Pro – SP2/3), Vista and Windows 7. It is priced between Rs 1,999 to 2,699 depending on its content.
MyEduWorld-Drive comes in 8 GB (for Grade 1-5 and Grade 6-7) and 16 GB (for Grade 8-10) capacities, pre-bundled with educational content for Maths and Science subjects. Users can choose any one class from 1 to 10. – in the next few months MyEduWorld-Drive variants would cover all subjects from KG to 12 as well. MyEduWorld for tablets is currently available in U1 and X1 models running on Android (OS 2.3 and 4.0) and will soon be available on other HCL ME Tablets as well.
MyEduWorld – the tablet and the USB Drive is available through HCL Store online, Book shops, Branded Retail, DDMS network and other online portals like Flipkart, Yokibu across India.